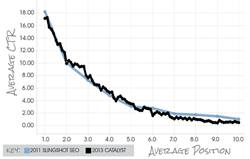 Boston, MA (PRWEB) October 17, 2013
Catalyst, a leading search engine marketing firm, today published the Google CTR Study: How User Intent Impacts Google Click-Through Rates. It provides a CTR analysis across the top 10 Google organic search results, gauges how organic CTRs have changed over time, examines how CTR behavior is impacted by search intent, query types, and user device, and educates marketers on the variables that can affect their CTR.
Designed to provide important trending information and build upon the various CTR studies published in recent years, the new study reveals that click-through rates on top organic listings on page one on Google have continued to decline. Today, the top organic listing nets a CTR of 17%. When compared to Slingshot's 2011 CTR study, the data shows that 2013 CTRs are down 4% for overall top organic listings. At the same time however, the data reveals that the vast majority of users (83%) click on the top four organic listings on page one, and that 48% of all searches produce a page one organic click.
These findings underscore the increased importance of SEO in today's highly competitive market and ever-changing SERP landscape. But they also touch on the need for a change in the marketer's mindset: while it is important to have top organic listings on page one, marketers also need to focus on click-through optimization.
"Marketers tend to focus on achieving top organic rankings for their prized terms," said Beth LeTendre, CEO, Catalyst. "But rankings alone won't drive business results. Marketers also need to work on boosting their click-through rate with SEO efforts, and then converting their website traffic. Fortunately, this study will help teach marketers about the variables that affect their CTR, and educate them about the ones they can control, and the ones they can't."
Catalyst analyzed close to 17,500 unique search queries (with an average ranking between 1-10, and a minimum of 50 search impressions per month) across 59 unique consumer packaged goods brands over 9 months (October 2012 – June 2013). All data was collected via each brand's respective Google Webmaster Tools account, then processed and analyzed using a powerful data visualization tool.
The examination of how CTR behavior is impacted by search intent, query types, and user device produced some surprising findings, especially between desktop and mobile. The data reveals that desktop devices outperformed mobile in CTR in all 10 positions. However, the CTR for mobile skews higher to the top three organic listings than any other category examined in the study. This can be attributed to users being on the go, which means they are less likely to scroll, and more likely to click on paid ads or top organic results.
The CTR performance between branded and unbranded terms was also surprising. Top ranking unbranded terms scored an average CTR of 20.5% for position one, vs. branded terms at 16.84%. This performance can probably be attributed to the fact that users who search for unbranded terms are often only at the information gathering stage of the purchase path, and more likely to click on the first result.
But informational intent queries that contained an actual question netted the highest average CTR of the entire study (25.8%). This is likely due to a number of factors including the desire for a quick answer, and the likelihood of few paid ads crowding out organic listings.
"The Google SERP landscape continues to evolve," said LeTendre. "It is critical to stay on top of the changes and be aware of the trends that stem from them. Marketers should take a close look at the findings of this CTR study and make adjustments to their own SEO efforts as needed. It could very well help them gain a competitive advantage."
For additional findings download Google CTR Study: How User Intent Impacts Google Click-Through Rates and infographic.
About Catalyst
Catalyst, a pioneer in search engine marketing since 1998, is renowned for developing strategic digital marketing solutions for Fortune 500 brands. The firm is the search agency of record for many of the world's top companies. Headquartered in Boston with offices in New York, Chicago, Seattle, Toronto, and Montreal, Catalyst serves numerous B2B and B2C clients in a variety of industries. The search engine marketing firm prides itself on being THE Search Innovator of the industry. Catalyst's offerings include: search engine optimization (SEO), paid search marketing (PPC), social SEO, content strategy, digital asset optimization, mobile search, e-retail optimization, local search optimization, global search, and competitive reporting. Catalyst is a wholly owned subsidiary of WPP, and is part of GroupM. For more information about Catalyst, please visit http://www.catalystsearchmarketing.com.