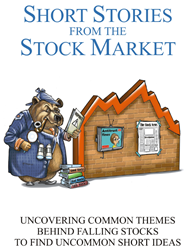 "Short Stories from the Stock Market should be on all serious investors' shelves." - Guy Spier, CEO, Aquamarine Capital
Secaucus, NJ (PRWEB) October 18, 2013
Short Stories from the Stock Market uses case studies to illustrate the short selling framework in practice. It draws upon examples from past research by Artham Capital Partners as well as research contributed by Off Wall Street, a short-focused independent research firm, based in Cambridge, MA, with a strong track record that spans two decades. The book illustrates how successful short investment theses are not based on the premise of high valuations, but rather on the problems with a company's business model and its accounting practices. While buying low and selling high usually works for long ideas, short selling expensive stocks based on high valuation alone usually does not work as well.
Marc Faber, author and publisher of The Gloom Bloom Doom Report, famous for his contrarian approach to investing, said of the book, "If there is value in buying undervalued stocks, there must be value in selling short over-priced stocks. As a short seller, I have to say that the problem with shorting stocks is that the most ludicrously overpriced stocks (like technology stocks in 1999) may become even more overpriced before they collapse. Still, Mr. Kumar's book is an excellent introduction into the controversial strategy of selling short stocks of companies whose fundamentals are likely to deteriorate."
Investors can avoid losses by using the underlying framework in the book to analyze weaknesses in their stock portfolio. "Amit's book took me into the mind of a short seller", said Guy Spier, CEO of Aquamarine Capital and an avowed buy-and-hold, long-only, disciple of Warren Buffett. "It helped me to better understand the different categories of shorts, as well as the ways in which various short sellers think. It behooves all students of investing not just to understand their own style, but to get inside the minds of the other market participants and see the world from their perspective."
Short Stories from the Stock Market explains how history can be a good compass to navigate an ongoing crisis and how recessions and crises can result in tightening credit cycles that expose vulnerabilities in certain business models. It also examines public recommendations by reputed investors as sources of short ideas and illustrates examples of when it may be useful to bet with or against reputed investors. It considers when to hold or fold your position and cites examples of traps and hot stocks to avoid. It also delves into the mechanics of short selling and how short selling is not the opposite of buying stocks.
About the book
Short Stories from the Stock Market: Uncovering common themes behind falling
stocks to find uncommon short ideas
Paperback, 166 pages, black & white on white paper, 6 in by 9 in
(available on CreateSpace.com and Amazon.com)
Kindle edition: releasing on November 3, 2013
Other eBook editions: January 2014 or earlier
ISBN-10: 148004833X
ISBN-13: 978-1480048331
Publication date: Oct 18, 2013; List price: $24.99
CreateSpace Independent Publishing Platform; 1st edition
About the Author
Amit Kumar started Artham Capital Partners LLC, an independent research firm, in 2009, after working as a buy-side analyst at Swiss Re. He is also an Adjunct Professor of Finance at Rutgers Business School and NJIT School of Management. Prior to entering the finance industry, he spent nine years in the technology industry with IBM, TCS, and a number of tech start-ups. He holds a B. Tech from I.I.T. and an M.B.A. from Columbia Business School. He lives in New Jersey with his wife and daughter.
About Artham Capital Partners LLC
Artham Capital Partners LLC is an independent research and consulting firm. Artham provides fundamental long and short ideas to mutual funds and hedge funds. In analyzing ideas, Artham delves into the company's business model as well its financial statements. Since its inception in 2009, Artham has published more than 40 long ideas and 10 short ideas with a batting average of over 80%.