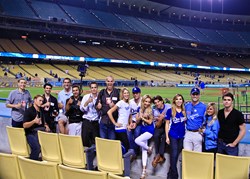 When you grow up watching baseball, playing baseball, and going to baseball games, getting to work for a Major League Baseball franchise is a dream come true. - Chris Carter
Los Angeles, CA (PRWEB) October 16, 2013
The Los Angeles Dodgers franchise adds another win to their exceptional baseball season. Telly Awards has named video production and corporate media company REP Interactive as both a Silver & Bronze winner in the 34th Annual Telly Awards for their video work with The Los Angeles Dodgers. REP Interactive's video work has helped the Los Angeles Dodgers increase premium seating season ticket sales since 2009. In their first Telly nomination, REP Interactive took home two awards for their entertaining and engaging video marketing assets. With nearly 12,000 entries from around the world, this is truly an honor.
The series of online commercials and marketing videos was created and produced by REP Interactive for the Los Angeles Dodgers. These live environment commercials emulate the in game experience and take viewers on a tour of each premium seating section in Dodger Stadium. Narrated by Vin Scully, the premium seating section commercials allow fans to experience the value of each season ticket Dodger Stadium has to offer prior to purchasing tickets for the year.
As one of the nations top corporate media companies, REP Interactive won 11 Telly awards this year, with the Los Angeles Dodgers premium seating section series winning for the categories of Editing and Corporate Image. REP Interactive has helped corporations use video and broadcast media to increase revenue, improve efficiency, and achieve communication goals for the last five years.
The Telly Awards was founded in 1979 and is the premier award honoring outstanding local, regional, and cable TV commercials and programs, the finest video and film productions, and online commercials, video and films. Winners represent the best work of the most respected advertising agencies, production companies, television stations, cable operators, and corporate video departments in the world.
A prestigious judging panel of over 500 accomplished industry professionals, ad agency executives, and public relations experts, each a past winner of a Silver Telly and a member of The Silver Telly Council, judged the competition, upholding the historical standard of excellence that Telly represents.
"The Telly Awards has a mission to honor the very best in film and video," said Linda Day, Executive Director of the Telly Awards. "REP Interactive's accomplishment illustrates their creativity, skill, and dedication to their craft and serves as a testament to great film and video production."
"I love baseball!" Says Chris Carter REP Interactive's Executive Vice President. "When you grow up watching baseball, playing baseball, and going to baseball games, getting to work for a Major League Baseball franchise is a dream come true. The Dodgers have one of the oldest Stadiums in the MLB and they have one of the strongest fan bases in the league. Helping them increase premium ticket sales by using our video and broadcast media solutions was a great experience and we are honored to accept these two awards. Thank you." Chris Carter, Executive Vice President of REP Interactive.
Fortune 500 Companies trust REP Interactive to produce award winning Video & Broadcast Media solutions for their businesses. REP Interactive is the premiere video agency of choice for companies looking to create video assets that increase revenue, decrease expenses, and achieve communication goals. REP Interactive also provides crisis communication support for public relations departments needing media teams during special situations.
To find out more about REP Interactive visit http://www.repinteractive.com and for more information on the Telly Awards visit their website at http://www.tellyawards.com.
About REP Interactive
REP Interactive is an award winning Video & Broadcast Media Agency. REP empowers businesses with video & broadcast media solutions that increase revenue, decrease expenses, and achieve communication goals. Since 2009, clients like Coldwell Banker, Marriott Hotels, and GE Healthcare have relied on REP Interactive for their ability to create innovative solutions to corporate communication problems.
Please contact Chris Carter, REP Interactive for inquiries: Chris(at)repinteractive(dot)com or call 888-789-1299.