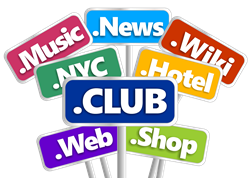 The power of .club lies in the inherent marketing message and global recognition that the word 'club' represents.
Fort Lauderdale, FL (PRWEB) October 17, 2013
.Club Domains, LLC, which is launching the new generic top level domain (gTLD) name ".club" will be among the exhibitors at this year's T.R.A.F.F.I.C. conference to help Internet domain investors navigate the exciting upcoming debut of more than 700 new top-level domains to hit the Internet over the next two years. Club's chief marketing officer Jeffrey Sass will be featured on a panel discussion "gTLD Mania. Myths and Facts. What it means to you." on October 21, 2013 from 12:45pm to 1:45pm.
When the Internet Corporation for Assigned Names and Numbers (ICANN) began approving the first new gTLDs for use in Internet addresses since 2004, it signaled a change in the way people will navigate the Internet and the way businesses will attract visitors to their sites forever. Sass and .Club are taking this early opportunity to help inform domain investors about how they may prepare themselves for the new landscape and what it means to their business.
"Domain investors play an important role in the Internet name ecosystem, said Sass. "The introduction of new gTLDs represents the development of new Internet real estate and brands. Many valuable assets will emerge from this expansion, to the benefit of individuals, companies and brands as well as those in the business of buying and selling domains. I look forward to a healthy debate at T.R.A.F.F.I.C., and to not only discussing myths and facts but to also discuss how domain investors can best capitalize on the new gTLD market."
"The debut of these new domain extensions is a positive step for the industry as they offer literally millions of opportunities for new Internet domain name combinations for individuals, investors, companies, clubs and more," said Monte Cahn, president of RightoftheDot, LLC, an Internet consulting and advisement firm. "Since many of the preferred dot coms are unavailable for new purchase, this opens up the market for individuals and companies to buy premium names with these new extensions that will be far better for targeting Internet traffic based on gender, age, hobbies, affinity groups, hobbies and so much more. When you have a domain like auto.club, fan.club or football.wiki, it does a better job of telling people exactly what they're likely to find on the site, rather than being vague as with a .com address."
The .club domain extension is stacking up to be one of the leading new gTLDs to hit the Internet in early 2014 as it consistently appears in the "Top 20" or higher at leading pre-registration sites. "The power of .club lies in the inherent marketing message and global recognition that the word 'club' represents," added Sass. "Club is spelled the same and means the same in just about every language and is ideal for loyalty clubs, membership organizations, affinity groups, nightclubs, country clubs - anyone who want to bring people together around shared interests and passions."
.Club Domains will be exhibiting at T.R.A.F.F.I.C. East 2013 taking place at the Ritz Carlton in Fort Lauderdale, Florida October 20-23, 2013.
About .Club Domains, LLC
Led by Internet entrepreneur Colin Campbell, whose prior successes include Tucows Interactive and Hostopia.com, .Club Domains, LLC was formed for the purpose of becoming the .CLUB gTLD registry. Fully understanding the inherent marketing value of a .CLUB domain for any membership organization, .Club Domains is also building a comprehensive social platform for club management. .Club Domains is a one-stop shop for clubs of all sizes to secure a great domain, grow club membership, improve member engagement and reduce management costs. By combining an easy to use web services platform with a top level domain based on a globally recognized term, .CLUB is "the easiest way to find, join or start a club." More information and pre-registration of .CLUB domains is available now at http://www.dotclub.com.