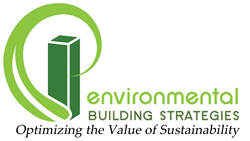 We focus on driving asset value...as a result, our clients are seeing robust financial returns.
San Francisco, Calif. (PRWEB) October 17, 2013
Environmental Building Strategies (EBS), a leader in high performance building engineering, LEED certification and commercial real estate consulting, announced today that it ranked 25th in the San Francisco Business Times 100 Fastest-Growing Private Companies in the Bay Area award. EBS has grown 317 percent since 2010 and was the only green building consulting firm included on the list. The company attributes its success to its cultivation of relationships with commercial real estate industry leaders, its unique approach to optimizing building value through sustainability, as well as its next-gen company culture and diverse team dynamics.
"While most green building consultants today are ex-AEC industry practitioners, EBS was founded on a real estate finance and economics background where we focus on driving asset value," said Matt Macko, co-founder and principal of Environmental Building Strategies. "Our consulting approach proves the synergy that naturally exists between buildings and the environment, which have previously been considered partisan ideals. As a result, our clients are seeing robust financial returns from our prescribed investments while also feeling better about their global impact."
EBS has gained a strong foothold in both the local and global green building markets and serves clients that want a better building: owners & developers, architects, contractors, municipalities / government entities and more. Notable clients include Boston Properties, Webcor Builders and Gensler. To address the unique needs and goals of each client type, EBS employs a variety of professionals including architects, engineers and contractors, as well as energy and real estate industry experts.
"Our team and culture are really what set EBS apart," said Ryan Potvin, co-founder and principal of EBS. "We can only grow as fast as our team is strong, so we've been adamant about hiring the right people with the right skills who also uphold the idealistic company we envisioned. Everyone at EBS has a genuine passion for people, the environment and 'having fun while getting it done', and that passion shines through in the quality of our work and relationships."
EBS was recognized at an October 15th gala ceremony and will be featured in the October 18th print edition of the San Francisco Business Times.
About Environmental Building Strategies
Environmental Building Strategies (EBS) is a High Performance Building consultancy that supports clients' initiatives to make intelligent and sustainable design, construction and operations decisions through sound financial analyses and building science expertise. Established in 2008, EBS has guided more than 150 building projects to reduce environmental impact, improve occupant conditions and boost operational profitability. With offices in San Francisco, Los Angeles and New York, EBS works with architects, developers, contractors, municipalities, building owners and property managers to realize high performing real estate assets. Services include sustainable engineering, consulting, education and building certification, with expertise in Net Zero Energy consulting, LEED, Energy Modeling & Auditing, Commissioning, Measurement & Verification, Life Cycle Costing and more. For more information please visit http://www.EBSconsultants.com.