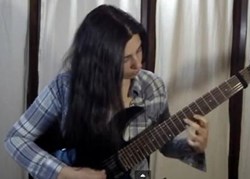 (PRWEB) October 17, 2013
In this two part guitar lesson, now available at YouTube.com, Alejandra teaches how to play part one of "Waves" by guitar master Guthrie Govan. The song consists of a variety of arpeggios and string skipping segments that are tied together by an array of slides. This piece is performed on a 7 string guitar. Mesliuk starts off playing it at tempo and then slows it down so you can see exactly how to play it. Later Alejandra breaks it down into small sections for a step by step lesson so know matter your skill level you can learn from this video. Guitar TAB for this lesson is available at guitarcontrol.com. Be sure to watch for part two of this video guitar lesson.
Step one features a long arpeggio that consists of hammer-on's, slides, and string skipping. In step two Alejandra demonstrates a bluesy sounding lick consisting of long slides. The remaining steps Mesliuk covers an array of melodic licks that consist of long horizontal slides and vertical string skipping arpeggios.
Govan, a native of Chelmsford England, is best known for his stent in the band "Asia" from 2001 to 2006. He began playing guitar at age 3 and was offered a record deal with Mike Varney's Shrapnel Records at age 20 but declined the offer. Govan has been a guitar instructor since the late 90's for The Guitar Institute in Action, the Academy of Contemporary Music, Thames Valley University, and currently at Brighton Institute of Modern Music. Guthrie's song "Waves" is from his album "Erotic Cakes".
Alejandra Mesliuk is from Buenos Aires, Argentina. She studied jazz guitar harmony and under the method in Temperley Berklee School of Music by Ariel Ferreyrola. She has been an area teacher and clinician for the last 10 years in electric guitar, classical, and musical language. She is currently working on a solo album.
GuitarControl.com is the leader in modern guitar instruction. It's packed with recourses including articles, video lessons, and the best videos in the business for the beginner to the advanced guitar student taught by the best instructors out there. Weather you are into the blues, rock, jazz, metal, folk, or anything in between, they have you covered.