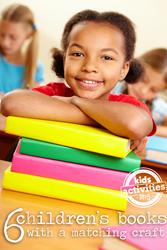 A matching craft to a book can make a book come alive.
Dallas, Texas (PRWEB) October 20, 2013
Want to make the books come alive? Seasoned moms are sharing fun book crafts and an educational felt shape game on Kids Activities Blog.
The book crafts combine a love of crafting and reading. Stories will come alive with these easy to do crafts with items found around the house. The many craft ideas include building an adorable red barn out of cardboard just like in the book Big Red Barn.
Another activity is inspired by the Curious George book. Making a banana snack is not only fun to do but healthy, too. Let the kids smear the banana with pudding and let them sprinkle granola crumbles and chocolate morsels on the pudding dipped banana.
Making kissing hand art with a recipe for edible finger paint is perfect when reading the Kissing Hand book. Making a rainbow fish out of construction paper scraps is another great idea when reading the Rainbow Fish book.
The fun felt shape game is a great educational game that helps the kids play with a purpose. Materials needed are a CD case, a collection of sheets of felt, and the free shape game printable published on Kids Activities Blog.
Help the preschooler develop fine motor skills and fine tune their hand eye coordination as they cut along the circles. Let the kids have fun cutting out shapes for eyes, nose, ears, and mouth.
For detailed instructions and to get additional fun educational games for kids, check out Kids Activities Blog this week. Come get inspired to let the kids play educational games with a purpose this fall.
About Kids Activities Blog
Kids Activities Blog is a website created by two moms (who collectively have 9 children), Rachel Miller and Holly Homer from June Cleaver Nirvana. It is their daily goal to inspire parents and teachers to play with kids. This interactive website publishes simple things to do with kids twice a day. Kids Activities Blog is a great tool for moms and teachers to find kid-friendly activities that create memories and sneak learning into the fun.