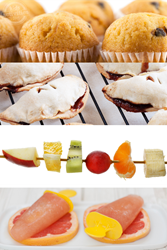 Low sugar treats are great for school occasions, holiday and birthday parties.
Dallas, TX (PRWEB) October 21, 2013
Halloween and sweet season is just around the corner. Seasoned Moms are sharing their low sugar treats recipes and a delicious peanut butter smoothie recipe perfect for after school snacks. Cupcakes or cookies may often be associated with class parties, but more and more schools are requesting to send low sugar or no sugar snacks.
The low sugar treats are sure to please every age, no matter what the season. The treat list is divided by season and ranges from muffins to popsicles.
Nothing fuels up a classroom like a sweet breakfast treat during morning lessons. With their bitty size and home baked taste miniature muffins bring a smile on kids' faces. The many sugar reducing tips include swapping out the sugar listed in a recipe with maple syrup, apple sauce, juice concentrate, or vanilla flavor while adding either baking soda or even cutting the dominant liquid in recipes.
Other low sugar treat tips include making peanut butter pies, making super creative fruit snacks that resemble butterflies, caterpillars, and rainbows. Summer party popsicle tips include freezing fruit juices, purees, yoghurts, and honey mixes into delicious and healthy little treats.
Another delicious and healthy snack idea is the peanut butter smoothie. Making it does not require a lot of ingredients or time. The peanut butter smoothy is a perfect drink for after school snack time.
By the way, it is healthy, too. It is so simple to make that it does only require two ingredients. Blend about 3 cups of frozen soy milk with 3/4 cup of peanut butter and ready is the perfect after school drink.
For detailed instructions and to get additional low sugar food tips, check out Kids Activities Blog this week. Come get inspired to serve healthy food this fall that the whole family will enjoy.
About Kids Activities Blog
Kids Activities Blog is a website created by two moms (who collectively have 9 children), Rachel Miller and Holly Homer from June Cleaver Nirvana. It is their daily goal to inspire parents and teachers to play with kids. This interactive website publishes simple things to do with kids twice a day. Kids Activities Blog is a great tool for moms and teachers to find kid-friendly activities that create memories and sneak learning into the fun.