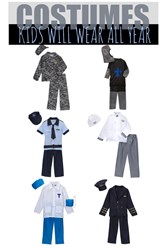 Fun Halloween costumes and birthday parties do not have to explode the family budget.
Dallas, Texas (PRWEB) October 22, 2013
Fun Halloween Costumes used all year round? Fun Halloween costumes kids can wear all year long and a cool Super Mario party idea have been published on Kids Activities Blog. Seasoned Moms are sharing their money saving ideas this season.
Sturdy and timeless Halloween dress up ideas have been released. A website called andRuby.com has dress up items that are just that, timeless, sturdy. On top of that, they are reasonable, too.
The fun designs range from the classic police man costume, to the cool knight, to the cute chef, to the playful doctor, and the cool pilot costume. The all costumes are made out of durable materials that can be used for hours of imaginary playtime.
Other time and money saving ideas include making a DIY Super Mario party. The party idea even includes an easy to set up obstacle course idea in the yard.
The list of Super Mario party ideas includes tips about delicious and reasonable Super Mario themed food ideas, to cool decorations, to great goody bag ideas. The birthday party ideas will be a winner for the birthday child as well as guests.
For detailed instructions and to get additional great reasonable tips, check out Kids Activities Blog this week. Come get inspired to let the kids have a blast without exploding the family budget.
About Kids Activities Blog
Kids Activities Blog is a website created by two moms (who collectively have 9 children), Rachel Miller and Holly Homer from June Cleaver Nirvana. It is their daily goal to inspire parents and teachers to play with kids. This interactive website publishes simple things to do with kids twice a day. Kids Activities Blog is a great tool for moms and teachers to find kid-friendly activities that create memories and sneak learning into the fun.