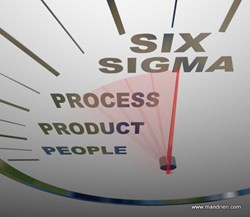 Small businesses often operate within a lean and restricted environment
New York, New York (PRWEB) October 17, 2013
Mandrien Consulting announced today that it has developed a scalable process improvement program that can greatly benefit small to mid-size companies. As an established leader and corporate mentor in providing Six Sigma Process Improvement Methodology to small cap corporations, Mandrien has now created a Six Sigma Scalable Program especially designed for mid-range companies and smaller organizations with up to 500 employees.
As a leading provider of process improvement services that deliver tangible and measurable results, the Mandrien's methodology is based on an integrated delivery of tools and training that have been shown to reduce cycle times, minimize operational flaws and eliminate unnecessary costs. Their approach has a proven track record of success that includes increased productivity, streamlined processes for greater operational efficiency and a high degree of customer satisfaction.
How Does Six Sigma For Small To Mid-Size Businesses Work?
Six Sigma for small to mid-range organizations includes classic Six Sigma methodologies such as process mapping, statistics and measurement, decision-making models and analytic tools. The experts at Mandrien deliver specific skill sets that can be applied to real-world situations in workplaces, while company executives can support this effort throughout the organization.
Advantages Of The Six Sigma Program
Based on years of hands-on experience with industry leaders worldwide, Mandrien insures that the new Six Sigma Program can offer topnotch process management skills to an expanded clientele of small to mid-range companies. The cutting-edge performance improvement techniques employed by captains of industry worldwide are now available to mid-level real estate service companies and title companies and can generate higher productivity, reduced costs and increased profits.
"Small businesses often operate within a lean and restricted environment," says Mandrien CEO Rusty Solomon. "Their challenge is to generate profits while still maintaining a high level of quality in product and service delivery." He goes on to say that, "because we now operate in a global economy, mid-range businesses must perform at precise levels. Many mid-level companies are suppliers who provide products and services to large corporations."
The principles used by industry giants like Motorola and GE to ensure success can just as easily be employed by smaller service providers and manufacturing companies. However, executives and managers at these companies have to understand exactly how to inventory, assess and modify their basic processes and procedures. Once this is accomplished, they will have the know-how to make sounder decisions that can positively affect profitability and support long-term strategic goals.
Mandrien Consulting is a full service management consulting firm that serves the title and mortgage industries with results-driven corporate strategic planning. Already a proven leader in this industry, Mandrien built its reputation on consistently delivering desired results. Through its expanded products and services — which include strategic national licensing, process improvement and change management– Mandrien can assist title and mortgage companies with all of their consulting needs.