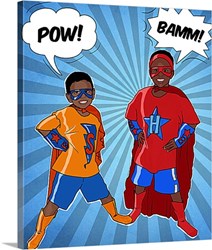 McKinney, TX (PRWEB) October 17, 2013
PaintYourLife has announced a great, new style to its lineup of incredible custom, pop art prints. The Comic style offered by the company, which is quickly proving to be a standout in the niche field of custom art paintings and prints, is perfect for comic book and graphic novel lovers of all ages. PaintYourLife is eager to share this style with its customers, many of whom requested the new photo print to canvas editing style after the popularity of its famous Lichtenstein design, found at http://www.PopArtPros.com.
The new Comics editing style is notable for taking on a more modern design than its Lichtenstein predecessor, perfect for anybody who is a fan of modern day comic books and graphic novels. In a world populated by smash superhero films, it is not difficult to see why so many customers are already lining up to have their very own comic book masterpiece to hang in their home or their office.
One of the many special things about this editing style from PaintYourLife is the fact that it can be manipulated in any number of ways. As always, PaintYourLife offers a number of free modifications with the purchase of any of its photo to pop art pieces. Among the modifications offered with this particular style is the ability to create a composition from multiple photographs to create the classic "frames" of a comic book, background removal, and the addition of thought bubbles for a fun and whimsical twist.
The Comics editing style can be used to create realistic pieces as well as black and white custom art pieces. The choice is entirely up to the customer, who will have a say in every part of the process from the initial design phase to confirmation of the final design. This is a great way for anybody with a vision to get a great piece of comic art depicting themselves or a loved one – just as http://www.PaintYourLife.com intended with the creation of this new editing style.
PaintYourLife is constantly creating new and innovative editing styles for its customers, in addition to offering the classic editing styles and services such as the custom oil paintings that it has become known for in the world of custom art as well as straight photo to canvas prints available at http://www.CanvasGurus.com. The Comics style is sure to gain a lot of fans, from kids who want to appear in the pages of their very own comic books to families who want to celebrate their love of comics through a custom piece of art.
About PaintYourLife
Since 2006 PaintYourLife has been the leading provider of online art products, and features one of the world's largest selections of canvas and art products. All products are designed by a team of professional graphic designers, and each product is created with the utmost quality and attention to detail. The site, which is a leader in the online art industry, has seen tremendous success because of customer and word-of-mouth referrals, and continuously works to develop innovative new ways to cater to an extensive range of needs.