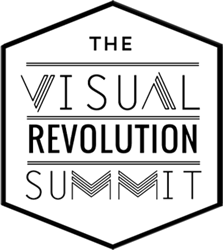 The Visual Revolution Summit creates a unique opportunity for brands, publishers and agencies to discuss, network and actively participate in establishing best practices for engaging and communicating with consumers ..." - Ranvir Gujral, CEO, Chute
San Francisco, Calif. (PRWEB) October 17, 2013
Chute, the first complete visual marketing platform, today announced the inaugural Visual Revolution Summit on Thursday, December 5th, in New York City. This will be an unprecedented gathering of 300 influential leaders from the world of publishers, agencies and brands – all of whom have a vested interest in the future of photo-driven storytelling. This one-day, invite-only event, will focus on digital storytelling, visual branding, consumer generated marketing, sponsored content and conversational media.
"People share more than 700 million photos every day – many of these photos are about brands, trends and events. A visual conversation is taking place and brands and publishers must be part of it," said Ranvir Gujral, co-founder and CEO, Chute and visionary for the Visual Revolution Summit. "The Visual Revolution Summit creates a unique opportunity for brands, publishers and agencies to discuss, network and actively participate in establishing best practices for engaging and communicating with consumers using visual media now and in the future."
Visual Revolution Summit
Who: 300 senior level executives in the brand, agency and publishing industries. Request an invitation here.
What: One-day, invite-only summit, comprising of presentations, 1:1 interviews, fireside chats and case studies exploring the future of advertising, marketing and publishing with the industry's most influential vanguard. More details about the topics being addressed at the Visual Revolution Summit can be found here.
When: Thursday, Dec. 5, 8:30 a.m. - 5:30 p.m., followed by a networking happy hour concluding at 7 p.m.
Where: Altman Building, 135 W. 18th St., New York
Speakers
The Visual Revolution Summit is a jam-packed day of dynamic discussions and thought leadership. Attendees will walk away with immediate ideas to explore and implement.
Speakers include:
Ben Huh, CEO, Cheezburger
Kira Pollack, Director of Photography, TIME Magazine
Jay Samit, President, ooVoo
Ranvir Gujral, Co-founder and CEO, Chute
Matt Sanchez, Co-founder and CEO, Say Media
Steve Rubel, Chief Content Strategist, Edelman
Jonathan Perelman, VP of Agency Relations, BuzzFeed
Barbara Griffin, Former executive, Turner Broadcasting System
Anna Dickson, Photography Director, AOL/HuffPo
Gregarious Narain, Co-founder and CTO, Chute
Scot Safon, CMO, The Weather Channel
Markus Spiering, Head of Product, Flickr
Raman Kia, Executive Director, Integrated Strategy, Condé Nast
David Berkowitz, CMO, MRY
Balaji Gopinath, VP of Emerging Technology, Turner Broadcasting System
Andy Barkett, CTO, Republican National Committee
Ian Schafer, CEO, Deep Focus
Matt Ipcar, SVP Strategy and Design, Blue State Digital
Tobias Peggs, CEO, Aviary
Vejay Lalla, Partner, Davis & Gilbert LLP
Dorrine Mendoza, Social Media Producer, CNN Digital
Marc Wendell, Product Manager, PicScout
For a list of speakers and bios, click here.
The Visual Revolution Summit is presented by Chute and sponsored by Turner Broadcasting System, Inc., PicScout and Davis & Gilbert LLP. For more information about the Visual Revolution Summit visit http://www.visualrevolution.com.
About Chute:
Chute is the most comprehensive visual brand engagement platform on the market today, powering everything from billboards to banner ads to native mobile apps to live events. The future of brand marketing is visual, and our tools to manage measure and drive engagement are essential for brand marketers. Chute works with the world's biggest agencies, publishers, brands including NBC, Turner, Condé Nast, NBA, Benefit, Ogilvy, the New York Times and LiveNation. For more information, visit http://www.getchute.com.
Media Contact:
Jody Farrar
Jody.farrar(at)getchute(dot)com
415-531-8416