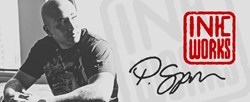 I strive to be the best every day and hope that my work reflects that and hopefully I'll have the pleasure of tattooing you one day. See you at the crossroads
Hollywood, CA (PRWEB) October 17, 2013
Hollywood entrepreneur and businessman, Tony Toutouni, announced today that he has commissioned Hollywood celebrity tattoo artist, Philip Spearman, to create a customized piece that will cover his left arm.
"Some people pay millions of dollars for picture to hang on their wall, so what's twenty eight thousand for a permanent work of art that will be with me forever!" remarked Tony Toutouni.
World renowned celebrity tattoo artist, Phillip Spearman, has been tattooing for over 11 years and has continued to push the envelope and himself to grander levels every day. Spearman has made a name for himself by creating his extremely unique one of a kind style that infuses ancient Korean styles and methods of tattooing with today's modern-day tattooing technology. This has made Phillip Spearman one of the most sought after tattoo artist in Los Angeles, who boasts a yearlong client waiting list.
Spearman is exceedingly versatile in every genre of tattooing, from freehand, color, black and grey, portraits, traditional, new school, realism, color realism and Japanese and Korean traditional styles.
In July of 2002, after 6 years of working in the trenches and for other studios, Phillip Spearman finally opened Inkworks Tattoo & Body Piercing. Inkworks has rapidly become the hottest celebrity tattoo studio for those in the know.
Spearman was responsible for cleaning up Florida Gators star Dominique Easley's existing hodgepodge of ink and turning it into a masterpiece.
Spearman then went on to tattoo Easley's Gators teammate, #7 Ronald Powell. NFL Denver Broncos #58, Von Miller also proudly shows off Spearman's original work. Philip Spearman was most recently spotted on the set of the Sons of Anarchy.
In Philip Spearman's words, "I strive to be the best every day and hope that my work reflects that and hopefully I'll have the pleasure of tattooing you one day. See you at the crossroads…"