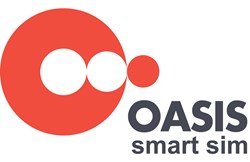 "4G is a new step in wireless communication. Oasis, proud of its partnership with ALTEL, keeps on expanding its offer and its presence in Russia and the CIS to fit customer demand and new technologies deployment," says Olivier Leroux, Oasis Smart SIM CEO
Paris, France (PRWEB) November 12, 2013
ALTEL, the first national mobile network operator in Kazakhstan, chooses Oasis Smart SIM to deliver its O-LTE SIM cards, for its LTE (4th generation) network. This way, Oasis brings its expertise for ALTEL to enhance the offer of ALTEL 4G, one of the leading brands of the ALTEL group. The first Oasis "advanced SIM" O-LTE cards have already been delivered to ALTEL.
The fact that ALTEL chooses Oasis to deliver its LTE SIM is a recognition of the company's level of expertise in the latest evolutions of SIM cards. Oasis LTE SIM are based on HELIOS operating system, which implements new features required by the standards. As it is based on IP (internet protocol), LTE, the fourth generation (4G) network, is the first step for a new way of thinking the mobile telephony, by implementing a new network that will enable users to get and send data more efficiently.
"ALTEL puts its utmost efforts in guaranteeing a superior communication quality in Kazakhstan. We are confident in Oasis expertise and technology, as their LTE cards will allow us to guarantee our customers an optimal use of the 4G network in the country", says Mr. Maxut Sauranbekov, the president of the JSC «ALTEL».
"The development of 4G is a new step in wireless communication. Oasis, proud of its partnership with ALTEL, keeps on expanding its offer and its presence in Russia and the CIS, in order to deliver the appropriate services to fit customer demand and new technologies deployment in these countries," adds Olivier Leroux, Oasis Smart SIM CEO.
About ALTEL
JSC ALTEL, a subsidiary of Kazakhtelecom, is the first telecommunication services provider in Kazakhstan, established in 1994. ALTEL has commercially launched its first 3G networks in Kazakhstan since December 2003. In 2012, Kazakhtelecom in partnership with ALTEL have launched new LTE data transfer network. Currently, ALTEL operates five brands nationwide: ALTEL 4G for 4G/LTE communication, PAThWORD for prepaid subscription, JET for mobile internet, City to offer fixed line numbers for mobile devices, and postpaid Dalacom.
About Oasis Smart SIM
Oasis is a SIM and mobile solution provider, which promotes to Mobile Network Operators (MNO) a new SIM value proposition adjusted to the changing conditions of the ecosystem.
Applying a clear consulting methodology and expert knowledge of operating systems, project design, application development, quality and delivery control, Oasis is the first truly mobile solution SIM integrator. With advanced and innovative solutions in the field of SIM, SIM life cycle management and customer activation, Oasis guarantees an optimized cost of acquisition while maximizing the services offered through the support of local experts, and a custom design and highly reliable secured solutions.
Oasis, which is a member of the GSMA, is a company incorporated in Singapore, with sales offices in Dubai, Moscow and Paris, which enables direct customer relationships.