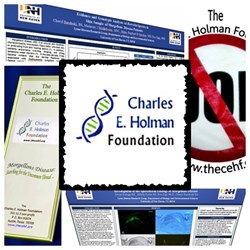 This study '...further evidences Morgellons pts skin samples contain Borrelia; genotyping the strain is an important step in understanding MD…' E Sapi, PhD
Austin, TX (PRWEB) October 17, 2013
The Charles E. Holman Foundation (CEHF) is pleased to announce that an international team of ten experts will represent the CEHF at the International Lyme and Associated Disease Society (ILADS) annual conference in San Diego, California this week. This year's conference, entitled "Merging Research and Clinical Skills", will address the collaboration and dialog between Lyme & associated tick borne disease researchers and patient advocates. The CEHF is a non-profit organization dedicated to raising awareness of Morgellons Disease (MD), a rare, debilitating multi-system illness characterized by the formation of unusual fibers within the skin. Morgellons Disease affects people of all ages and ethnic groups worldwide.
The CEHF conference attendees include: Cindy Casey-Holman, RN (Director of CEHF; from TX), Robert Allan, PhD (CEHF Scientific Advisory Board; from Canada), Robert Bransfield, MD, DLFAPA (CEHF Medical Advisory Board; from NY), Nancy Egger ( CEHF Volunteer; from VA), Peter Mayne, MD (CEHF Medical Advisory Board; from Australia), Marianne Middelveen, MSc, Mdes (CEHF Scientific Advisory Board; from Canada), Carsten Nicolaus, MD, PhD (CEHF Medical Advisory Board; from Germany), Ginger Savely, DNP, MEd, FNP-C, ACN (CEHF Medical Advisory Board; from Washington DC), Raphael Stricker, MD (CEHF Medical Advisory Board; from CA) and Lisa Wallace, RN, PHN, MSN (CEHF Nursing Advisory Board; from CA). This esteemed group will serve to symbolically and physically represent the voice of Morgellons patients through the US and world wide.
Several members of the CEHF delegation will play major roles in the conference:
-Dr. Robert Bransfield will speak on "The Psychoimmunology of Tick Borne Diseases and its Association with Neuropsychiatric Symptoms." Dr. Bransfield is a past President of ILADS and currently serves as one of the organization's Directors.
-Dr. Raphael Stricker will serve as Moderator for the Sunday Breakout session, "Laboratory Advances." Dr. Stricker has served as President of the ILADS and is currently holds the role of ILADS Vice President.
Finally, Cheryl Bandoski, student of Dr. Eva Sapi, PhD at the University of New Haven, will deliver a presentation on current Morgellons research which was funded by the Holman Foundation, entitled "Evidence for Spirochetal Involvement in Morgellons Disease". This presentation is in regard to using research as key evidence in establishing Morgellons as a true physiological disease.
"In this presentation we demonstrated further evidences that Borrelia species can be found in the skin lesions from Morgellons patients and provided information about their genotypes. Molecular characterization and genotyping the strain of Borrelia present in Morgellons skin lesions is an important step for understanding what leads to skin lesions and fiber formation," said Eva Sapi, PhD, in charge of Morgellons research being done at The University of New Haven.
Information from the Morgellons research being presented at ILADS 2013 as well as any further up dates from the U of NH team will be available at The 7th Annual Medical-Scientific Conference on Morgellons Disease to be held in 2014. The CEHF be hosting the spring 2014 event on March 29th-30th, 2014 in Austin, TX. For those wishing to present at the 2014 Morgellons conference, proposals will be accepted for consideration until January 4th, 2014. All submissions should include an abstract, presenter bio and CV. Applications should be sent to info(at)thecehf(Dot)org with "Submission for 2014 Morgellons Conference" in the subject line. More details about the upcoming conference will be on The CEHF website as they become available.
About The Charles E. Holman Foundation
The Charles E. Holman Foundation, based in Austin, TX, is a 501(c)(3) nonprofit organization committed to advocacy and philanthropy in the battle against Morgellons Disease. The foundation was named for Charles E. Holman, a pioneer in the fight against Morgellons Disease, and is led by Executive Director Cindy Casey-Holman, RN. Morgellons Disease is a multi-system illness that affects people of all ages and ethnic groups, and includes slow-healing skin lesions often accompanied with overwhelming fatigue and an array of neurological deficits.