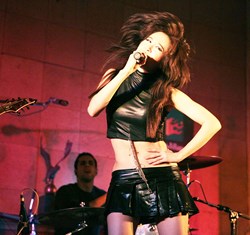 Get 'Mina' at Mina.Bandcamp.Com, and Support Keep-a-Breast.
Brooklyn, NY (PRWEB) October 17, 2013
International pop artist Mina Koo has teamed up with Direct-to-Fan platform BandCamp, as well as the global non-profit breast cancer organization Keep A Breast (KAB) foundation, in efforts to help fight breast cancer. $2 from each purchase of her album "Mina" at Mina.Bandcamp.com goes to Keep A Breast foundation, which will educate 10 more people about breast cancer prevention, early detection, and coping.
Mina recently released "#GoMinaKoo - Episode 1" Video for this campaign. Mina, herself, having lost her grandma to breast cancer, is very passionate about the cause. She recalls one of the biggest forces that have held her up while she was working on her album was that unconditional love she experienced in her grandma's arms.
BandCamp has been popular among artists and fans looking to discover new music and help fund the endeavors of their favorite independent artists. Keep-A-Breast foundation uses art, creative expression and grassroots action to inform young people about methods of prevention and early detection, as well as providing emotional support.
Mina Koo has eclectic mix of influences in her music, such as Lady Gaga, Michael Jackson, and Shakira, from rock to dance, hip hop to funk, in the sound of radio friendly club anthems. Her songs Suddenly and More Than a Crush got nominated in Hollywood Music in Media Awards, as well as she herself got nominated at Artists in Music Awards. Her Song 'Troubadours (Dance Floors)' was 2012 Finalist at John Lennon Songwriting Contest. 'More Than a Crush' was featured on MTV Reality show called 'Challenge: Battles of Exes,' and another song 'Jini' was played several times on E! Keeping Up with the Kardashians! The album, complete with lyrics, image booklet, and instrumental tracks is available for immediate download at Bandcamp for $3.50 USD.
If you're in the NY area, don't miss your chance to catch Mina live in New York, as well as meet her in-person at the Keep-a-Breast Halloween Bash. The event will be held at Brooklyn's own Branded Saloon on Oct 26 (Saturday) at 9:30pm. (Coordinator: Selena Tenorio) Pick up the album from Mina.Bandcamp.com before the show, and you will be automatically entered into a contest to win raffle prizes!
Please visit "Mina" by Mina Koo at BandCamp; and through your donation, help us to work to build a future without breast cancer. You'll be credited in Mina's next album, as well as receive a personal note of thanks!
To view the video: http://youtu.be/MrSU82BhnpI