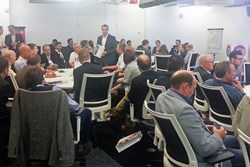 The mixture of theory and practice along with the customer case study made it an ideal meeting.
London (PRWEB UK) 17 October 2013
AppsCare®, Google Premier Enterprise Partner, has announced that they will be holding their next 'Going Google' event on Thursday 30th January, 2014. The event, which is free to attend, will provide senior business and IT executives with an understanding of the value of Google Apps from an operational and financial perspective.
Held at Google's Central St Giles office in London, between 1pm and 5pm, attendees will hear from Google certified technical deployment and change management experts, as well as gaining first hand experience from an organisation which has recently migrated to Google Apps. In addition, a representative from Google will highlight the latest innovative developments in cloud email infrastructure, security and compliance.
Following the event, attendees will be invited to join AppsCare and Google for informal networking where there will be ample opportunity to ask any further questions. Those interested in attending the event are encouraged to register early as limited places are available.
Click here for further information and to register.
Feedback from previous events:
"The mixture of theory and practice along with the customer case study made it an ideal meeting."
"The Q&A session was excellent and pitched at the right level."
"Opened my eyes to what is possible (a lot more than I had appreciated)."
About Google Apps
Google Apps is a cloud-based productivity suite that helps individuals and teams connect and get work done from anywhere on any device. It's simple to setup, use and manage, allowing organisations to work smarter and focus on what really matters. The Google Apps suite includes, Gmail, Drive, Calendar, Sites, Hangouts and more for £33 per user per year. Licenses for Google Apps for Education and Google Apps for Non-Profits are free.
About AppsCare
AppsCare®, powered by Netpremacy Global Services, is a world leader in cloud services provisions, supporting over 2500 customers in 33 countries. AppsCare comprise 10+ years experience deploying technical solutions for organisations of all sizes and geographies utilising their GStall delivery methodology and AppsCare support programmes. AppsCare's engineers were some of the first to achieve both Google Apps Certified Deployment Specialist (GACDS) and Cisco IronPort Certified Security Specialist (CICSS) accreditations, providing unrivalled expertise in their customer care teams.