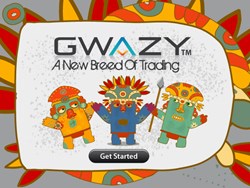 "GWAZY combines a new way of trading with the best of the best platform features and outstanding tools for traders"
Limassol, Cyprus (PRWEB) October 22, 2013
Windsor Brokers Ltd. recently announced the launch of a new trading method and innovative trading platform, GWAZY.
GWAZY is an unparalleled trading method and platform that is simple, dynamic and secure.
The GWAZY trading platform is designed to offer investors a unique trading experience and a new, alternative way of trading financial instruments.
The first trading method offered by GWAZY is called 'Classic'. Designed for investors of all levels, GWAZY traders can trade instruments such as Forex Currency pairs, Gold, Dow Jones and Crude Oil in an easy and exciting way, with predetermined return and risk levels. Unlike other platforms where the maximum payout percentage is usually limited and unpredictable, GWAZY offers return options of 25%, 50%, 100% and an astonishing 200%.
The philosophy behind GWAZY is to allow investors to trade comfortably with less effort, time and pressure as both the payouts and risks are pre-determined. Investors can test the GWAZY platform free to experience this revolutionary trading method and platform.
"This year marks Windsor's 25th Anniversary. We are known for who we are and what we do and that is why we have a prominent presence in the financial markets. Through our knowledge and experience, we took up the challenge and introduced an ultra modern trading platform with an innovative method of online trading. GWAZY combines a new way of trading with the best of the best platform features and outstanding tools for traders", said Mr. Johny Abuaitah, CEO of Windsor Brokers Ltd.
About Windsor Brokers Ltd.
Windsor Brokers Ltd. is licensed and regulated by CySec (Cyprus), EEA authorized by the FCA (UK), registered with the AMF (France) and BaFin (Germany).
About GWAZY.
GWAZY is a new trading method and platform that is offered by Windsor Brokers Ltd.