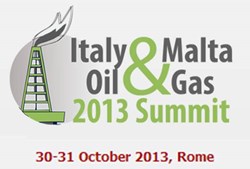 It's an IRN Summit
(PRWEB UK) 21 October 2013
Alen Leveric Deputy Minister from the Ministry of Economy and Barbara Dorić, Executive Director, Center for Monitoring Business Activities in the Energy Sector and Investments, will be presenting latest updates on the current licensing round in Croatia, offshore Adriatic at the Summit this month.
The Italy and Malta Oil & Gas 2013 Summit, organised by the global summit organiser IRN, is taking place from 30th – 31st October in Rome and is the only high-level meeting focusing on the oil and gas industry Italy and Malta; two countries that respectively hold significant oil and gas prospects. Moreover, offshore Malta has attracted a lot of interest during the last few months from the IOCs and service providers, who want to get involved in the exciting opportunities offshore Malta has to offer, so the summit will provide an excellent platform to gauge the latest developments and activities.
Companies in attendance at the Summit include Spectrum, DEPA, TGS, DNV Italia, along with the Minister for Energy and the Conservation of Water of Malta, Hon. Dr. Konrad Mizzi; Minister for the Economy, Investment and Small Business of Malta, Hon. Dr. Christian Cardona, Director General Continental Shelf Department Ministry for Transport and Infrastructure of Malta, Dr. Albert Caruana.
Spectrum, one of the key sponsors, will hold a very interesting presentation addressing their seismic acquisition progress in the Adriatic. In addition, DNV Italia will present the risks and opportunities in the central Mediterranean Sea offshore projects.
More information can be found on: http://www.italymaltasummit.com