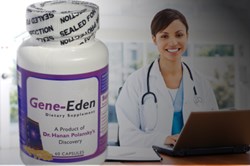 People shouldn't have to experience negative consequences when they want to reduce herpes symptoms. Gene-Eden-VIR is an option for those that want to reduce their herpes symptoms without experiencing symptoms caused by medication." – Mike Evans, polyDNA
Rochester, NY (PRWEB) October 18, 2013
What treatments are available for a herpes outbreak of cold sores? polyDNA found that in its October 2013 survey, many people asked this question. As a service to its customers, polyDNA published an update to its page on herpes on its website.
The following information was included:
WebMD notes on a page last updated on May 4th, 2013 that "antiviral medicines available for treatment include acyclovir (Zovirax), famciclovir (Famvir), and valacyclovir (Valtrex). These oral medications are more effective when started within the first 48 hours of the outbreak. Valacyclovir is more expensive, but is better absorbed in the digestive tract and therefore more reliable (1)."
As a study published in 2013 in the medical journal Advances in Pharmacology says, "A historical overview describes the progress from the early, rather toxic antivirals to acyclovir (ACV) which led the way for its prodrug, valacyclovir, to penciclovir and its prodrug, famciclovir (FCV). These compounds have been the mainstay of HSV therapy for two decades… (2)."
However, many of these drugs have negative side effects. For example, Drugs.com notes that when people take Zovirax, they may experience the following side effects: general feeling of discomfort or illness, abdominal or stomach pain, decreased frequency of urination or amount of urine, increased thirst, loss of appetite, nausea or vomiting, unusual tiredness or weakness, black tarry stools, blood in urine or stools, chills, fever, or sore throat, confusion, convulsions (seizures), hallucinations (seeing, hearing, or feeling things that are not there), hives, pinpoint red spots on skin, trembling and unusual bleeding or bruising (3).
In contrast to pharmaceutical drugs, which all have many side effects, there are also natural herpes remedies that do not. One such remedy is Gene-Eden-VIR, a natural antiviral product that was proven safe and effective in a recent post-marketing clinical study. That study was published in the medical journal Pharmacology & Pharmacy, in a special edition on Advances in Antiviral Drugs on August 12, 2013 (4).
Additionally, up to 70% of those studied reported a decrease in viral symptoms, and users experienced an increase in overall health (4).
"People shouldn't have to experience negative consequences when all they want is to reduce their herpes symptoms. Gene-Eden-VIR is a great option for those that want to reduce their herpes symptoms without experiencing symptoms caused by medication." – Mike Evans, polyDNA
Each ingredient of Gene-Eden-VIR was chosen through a scientific approach. Scientists scanned thousands of scientific and medical papers published in various medical and scientific journals around the world to identify the safest, most effective natural ingredients that target the latent form of herpes. (4)
To learn more about Gene-Eden-VIR and herpes, visit http://www.gene-eden-kill-virus.com/Herpes-Remedy.php. All orders of Gene-Eden-VIR are completely confidential, and no information is shared or sold to any third party. Privacy is assured.
Reference:
(1) http://www.webmd.com/skin-problems-and-treatments/understanding-cold-sores-treatment
(2) http://www.ncbi.nlm.nih.gov/pubmed/23885997
(3) http://www.drugs.com/sfx/zovirax-side-effects.html
(4) http://www.scirp.org/journal/PaperInformation.aspx?PaperID=36101
polyDNA is a biotechnology company that develops dietary supplements using the unique scientific method developed by Dr. Hanan Polansky, which is based on Computer Intuition.
In addition to his unique scientific method, Dr. Polansky published the highly acclaimed scientific discovery, called Microcompetition with Foreign DNA. The discovery explains how foreign DNA fragments, and specifically, DNA of latent viruses, cause most major diseases.
polyDNA developed Gene-Eden-VIR , an antiviral natural remedy that helps the immune system kill latent viruses.