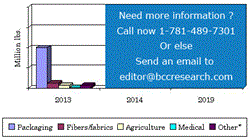 Wellesley, MA (PRWEB) October 19, 2013
According to a new technical market research report, Biodegradable Polymers from BCC Research (http://www.bccresearch.com), the global volume for biodegradable polymers is expected to reach 1.3 billion lbs in 2013 and grow to 1.5 billion lbs by 2014. BCC Research projects the market to reach 3 billion lbs by 2019, and register a five-year compound annual growth rate (CAGR) of 10.4% from 2014 to 2019.
A number of conflicting definitions and terms has led to confusion over what substances are considered biodegradable or not. Simply put, to be considered biodegradable, a substance must be susceptible to microbes that degrade materials under the proper conditions, leaving only carbon dioxide, water, and humus. While bioplastics are resins that are derived from natural rather than petrochemical sources, not all bioplastics are biodegradable. In addition, biodegradable polymers need not be plant-derived. Indeed, resins used to produce biodegradable plastics can be derived from both natural and synthetic processes.
Although biodegradable polymers have been commercial for several decades, this market is often characterized by a high degree of flux, something you find in new or emerging markets. New biodegradable polymers are being introduced, accompanied by withdrawals of other products. Consequently, growth in this market is being shaped by emerging technologies and new innovations, as well as environmental regulations on both the governmental and industry levels.
A variety of factors—such as relatively unpredictable oil prices, worldwide interest in renewable resources, increased concerns of greenhouse gas emissions, and fresh interest in waste management—has sparked new interest in both biopolymers and biodegradable polymers. Compared with more traditional polymers, biodegradable polymers have found several niche markets within a wide range of markets, including packaging (carrier/waste bags and food wrappers/containers), agricultural (mulch films, flowerpots, and encapsulation of fertilizers for controlled release), and medical devices (orthopedic, dental, drug release, and tissue engineering).
This report from BCC Research provides an overview of the global market for biodegradable polymers, defined as polymers that are completely converted by microorganisms to carbon dioxide, water, and humus. It discusses how this niche market is beset with a variety of challenges, including high prices, lack of industrial infrastructure in the United States, and a strong global legislative mandate to increase the usage of these materials. In addition, this study examines characterizations of the industry by new technologies, stringent environmental restraints, and very unstable oil prices, among other issues. An analysis of global market trends, with data estimates for 2013 and 2014, and projections of compound annual growth rates (CAGRs) through 2019 is also included.
This report covers the chemical types of biodegradable polymers including their properties, production, producers, and applications. It surveys key industry players in terms of their products and impact on the market. In addition, this study reviews definitions and standards, market drivers, biodegradation testing, environmental issues, composting, and technologies relevant to the industry. An examination of global consumption is also provided along with considerable information related to North American, European and Asian products, technologies, markets, and companies.