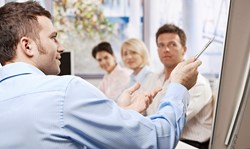 The Binary Seminar involves in-depth lectures from distinguished professionals who will present industry-wise topics.
(PRWEB UK) 17 October 2013
The global leader in the binary options industry, TRADOLOGIC, is currently in eager preparation for the industry's first Binary Seminar. Only several days are left until the international visitors arrive in Sofia to take part in this unique event.
It is a pleasure for TRADOLOGIC's team to announce the upcoming Binary Seminar that will take place on 21st – 23rd of October 2013 in Sheraton Hotel, Sofia, Bulgaria.
The goal of the seminar is to provide binary insight and the necessary knowledge to be successful in the binary industry. TRADOLOGIC will give the chance for all visitors to get acquainted with the company's products and services and also provide them with in Businessman speaking on presentation formation on how to adapt the binary software to their business needs. TRADOLOGIC will not only present the latest innovations in the financial trading industry but will also offer the event attendees entertainment activities. The event will be one of the biggest events in the binary world, where professionals from around the world will have the opportunity to share ideas and get the binary advice they need to manage a successful binary brand.
The Binary Seminar involves in-depth lectures from distinguished professionals who will present industry-wise topics. The lecturers will focus on subjects from the areas of regulation, marketing and affiliation, sales and retention, payment processing, trading and risk management and related issues. The professionals will also discuss very specific problems which binary operators face in the constantly changing environment of financial trading.
The lectures and educational activities will be followed by entertainment program. The first evening includes a dinner at a traditional Bulgarian restaurant and a folklore night. For the next evening TRADOLOGIC is planning a special entertainment program including a dinner, welcome drinks, an amazing magician show and a Burlesque show. The world's famous Israeli magicians Amir Lustig and Oren Ram will arrive in Sofia with the sole purpose to entertain TRADOLOGIC's guests. TRADOLOGIC's team will be glad to have the chance to meet current and potential partnerknife 2s in this informal environment.
TRADOLOGIC believes that this unique combination of binary lectures and entertainment will lead to a successful and fulfilling binary businesses experience for all event attendees.
About TRADOLOGIC:
TRADOLOGIC is the global leading binary options platform provider. TRADOLOGIC's team of experts constantly creates new and innovative products that will satisfy the needs of each individual partner. TRADOLOGIC's platform is stable and reliable and gives partners that ability to develop a successful binary business.