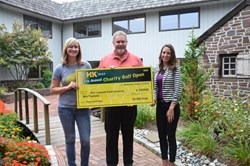 Skippack, PA (PRWEB) October 17, 2013
On September 21, The H&K Group held its 7th Annual Charity Golf Outing at Lederach Golf Club in Lederach, PA, with proceeds benefiting Alex's Lemonade Stand Foundation (ALSF).
The H&K Group, headquartered in Skippack, PA, hosted the annual event which brought together employees, as well as friends, family, valued vendors, customers and clients, for a fun day of golf and camaraderie. While the day's festivities were enjoyed by all, it was the spirit of charity, with all money raised donated directly to ALSF, which drove this event. This year's outing was a resounding success, bringing in $9,000 thanks to an incredible response of sponsorships and generosity from employees, long-time business partners, and many local businesses offering in-kind donations.
Each year, a charitable organization is selected to be the beneficiary of this event. Due to the proximity of ALSF, located in nearby Wynnewood, PA, and most importantly the value and services it has and will provide to children throughout our local area, as well as nationally, it was only fitting to select ALSF as the recipient this year. ALSF Hero Ambassador, Garry Newman, along with his son, Alex, were present at the event and addressed the crowd before the shotgun start. Garry shared Alex's inspirational story, as he was diagnosed with Stage IV Neuroblastoma as an infant. Now cancer-free, he is an example of a child who benefited from the many services and research projects that ALSF funds and provides.
On October 16, ALSF Fundraising Team Manager, Jenna Jackson, visited The H&K Group's headquarters and was presented the $9,000 check by The H&K Group's CEO, Scott Haines, and The H&K Group's Public Relations & Communications Coordinator, Shana Overholt.
About The H&K Group:
Founded in 1968, The H&K Group is a family of vertically integrated companies serving the contracting and construction industries, with over 80 locations throughout eastern Pennsylvania, New Jersey, Maryland and Delaware. They provide construction materials, including, crushed stone, asphalt, and concrete; full-service site contracting, including excavation, utilities, paving, and retaining walls; demolition, natural stone, landscape materials, recycling and clean fill facilities, and emergency response, among many other services. http://www.hkgroup.com.
About Alex's Lemonade Stand Foundation:
Alex's Lemonade Stand Foundation emerged from the front yard lemonade stand of cancer patient Alexandra "Alex" Scott (1996-2004). In 2000, 4-year-old Alex announced that she wanted to hold a lemonade stand to raise money to help find a cure for all children with cancer. Since Alex held that first stand, ALSF has evolved into a national fundraising movement, complete with thousands of supporters across the country carrying on her legacy of hope. So far, the foundation has raised more than $65 million, which helps to fund research projects, and provide support, resources, and travel assistance for families of children receiving treatment. http://www.alexslemonade.org.