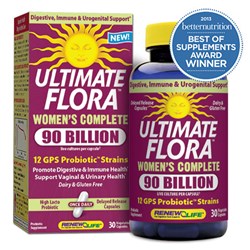 We saw the demand for a higher potency probiotic that addressed both a woman's digestive & urogenital needs.
Clearwater, FL (PRWEB) October 18, 2013
Qualifying Criteria
Better Nutrition magazine's Best of Supplements Awards are based on manufacturer nominations, retailers, editors' favorites and input from Better Nutrition's supplement advisory board. Better Nutrition magazine is announcing the 2013 Best of Supplements Award winners in their November issue, as well as in their social media properties.
The Need for a Women's-Only Probiotic
Brenda Watson, C.N.C., founder of ReNew Life Formulas, Inc., stated, "Women have diverse requirements. We saw the demand for a probiotic that addressed both the digestive and urogenital needs of women in a higher-potency formula, than what was already available on the market, and that's why I decided to formulate this very potent, diverse formula."
Ultimate Flora Probiotic Women's Complete 90 Billion
Formulated for a woman, by a woman, Ultimate Flora Women's Complete is a high-potency probiotic with 90 billion live cultures per capsule of 12 specially selected GPS Probiotic™ Strains (Gastrointestinal Probiotic Strains) that occur naturally in the digestive and urogenital tracts of a woman. 7 Lactobacilli strains with 54 billion Lactobacilli cultures produce beneficial compounds that support a healthy balance of bacteria and yeast in the digestive and urogenital tracts. 36 billion Bifidobacteria strains support digestive and immune health, promote regularity and help replenish the Bifidobacteria that is lost as we age.
The Ultimate Flora Difference
Ultimate Flora—the high-potency probiotics—feature one-capsule-per-day convenience in delayed-release vegetable capsules that protect the probiotics from harsh stomach acid. Potency is guaranteed until expiration (not just until time of manufacture like many other brands). Ultimate Flora probiotics are dairy and gluten free, and are contained in Fresh-Assure glass bottles for ultimate freshness.
ReNew Life Formulas was founded in 1997 by Brenda and Stan Watson and offers a full spectrum of award-winning digestive care supplements and functional foods. Each ReNew Life product is made from only the finest raw ingredients. The company's analysis, educational materials, customer service and superior manufacturing practices all set the benchmark for others in the industry. Above all, ReNew Life is dedicated to helping their customers achieve and maintain optimal health, increased energy and enhanced mental clarity.
For additional information on Ultimate Flora Women's Complete 90 Billion, please contact bcooper(at)renewlife(dot)com.