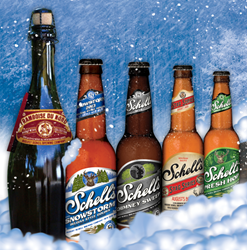 New Ulm, MN (PRWEB) October 18, 2013
The August Schell Brewing Co., the second-oldest family-owned brewery in the country, brewer of Schell's and Grain Belt, has been busy brewing a cornucopia of great beers for the coming fall and winter seasons.
Chimney Sweep, a black lager, has returned after an exciting first year. The beer was given its name as a tribute to the mysterious chimney sweeps of yesteryear who were considered a source of good luck. Chimney Sweep has a rich, roasty maltiness with notes of bittersweet chocolate and coffee. Chimney Sweep is available from October through February.
After a strong Oktoberfest season, Schell's is set to release its winter seasonal, Snowstorm. Just like every Minnesota snowstorm is different, so is this year's recipe. This year's Snowstorm will be a smooth Belgian-style golden ale. Chamomile and coriander add soothing herbal notes to its floral maltiness and warm, rich spiciness. Schell's Snowstorm is available from November through December.
Earlier this year, Schell's collaborated with German-based Gold Ochsen brewery for a combined 10 generations and 569 years of brewing experience to create the latest Stag Series release: August's Bock. This beer is a blond doppelbock, with a rich golden amber color, assertive hop bitterness and a robust malt character. Stag #8 is a limited release and will be available starting November.
Schell's Brewery's latest brand extension, Schell's Fresh Hop, will be bottled in mid-November and will be released soon thereafter. Brewers at Schell's did a fresh hop brew last year and had so much fun making it that they decided to bring it back as an annual offering. This year's fresh hop beer will highlight the new mosaic hop. Five-hundred fifty pounds of whole cone Mosaic hops were added to the first wort, 20 minutes into the boil, and then 200 pounds were added to the whirlpool. A delicate Pilsner malt backbone allows the fresh Mosaic hops, with its strong tropical fruit flavors and aromas, to take center stage with this beer. Only 200 barrels of this beer was brewed, so look for it while you can mid-November.
The second release from the Noble Star Series, Framboise Du Nord, will debut in mid-November. Five-thousand pounds of raspberry purée were added to 70 barrels of the initial Star of the North brew, giving this release a bright, neon red color with a pink foam head. This Berliner Weisse is refreshingly tart, dry and bursting with red raspberry flavor. Framboise Du Nord will be bottled in 750ml bottles next week and allowed to bottle condition for three weeks before being released in mid-November.
About August Schell Brewing Company:
August Schell Brewing Company, located in New Ulm, MN, sits atop the same site it was built on in 1860. With its sprawling grounds, beautiful gardens, Schell Mansion, and deer park, the brewery is a tourist destination for any beer lover. Schell's boasts a proud heritage of 153 years of continuous family ownership and specializes in craft beers. In addition to the line of specialty beers, Schell's also produces Grain Belt Premium, Grain Belt Premium Light and Grain Belt Nordeast. For more information on Schell's Brewery, tour schedules or any of their 17 quality beers, go to http://www.schellsbrewery.com.