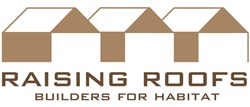 Greensboro, NC (PRWEB) October 19, 2013
Habitat for Humanity of Greater Greensboro and the Greensboro Builders Association are preparing for this year's Raising Roofs…Builders for Habitat event, when they will build seven new houses, from foundation to dedication, in five days, November 4 - 8.
The Greensboro Builders Association and Habitat for Humanity of Greater Greensboro began building together in 2003 with the first Raising Roofs...Builders for Habitat event. Over the past ten years, this event has brought together hundreds of builders, suppliers and trade contractors to work side by side to build houses from foundation to dedication in one incredible week!
This year, 20 Greensboro Builders Association members have stepped up to the challenge to build seven houses in five days –bringing the total built by the Greensboro Builders Association to 50 homes in our ten-year partnership. All of this would not be possible if not for the generous donation of time, materials and talent from the builders, trade contractors, suppliers and volunteers. The building teams for Raising Roofs...Builders for Habitat 2013 are:

Windsor Homes & Gary Jobe Builder, Inc.
J. Douglas Millican, J&B Builders, Inc., Worth-Reitt Associates, LLC & Blue Ridge Builders of the Triad, Inc.
Keystone Homes
Disney Construction Company, Don Mills Builders, Inc., & Ron Foister Custom Homes, LLC
John Hodgin Construction Co, Inc., New Age Builders, Inc., Silverstein Construction Corp., & SwiftCreek Construction, LLC
JLB Remodeling, Inc., FM Contracting, LLC, DLM Builders, Inc., & Brickwood Builders, Inc.
RAM Homes, Inc. & Huntley Builders, Inc.
Due to the generosity of Builders Association and Habitat donors, seven families will become homeowners this fall. They are: Irma Santos, Joel and Tiffany Greene, Ky Y and Fnu Penh, Tara Warren, Mesfin Haile and Serkalem Mekonnen, Anwar Ahmed and Samia Said, and Artez and Wilamenia Saulsby.
Quality, affordable homes rekindle hope, and roots families and communities. In homes where the walls are strong and the roof is secure, the family inside may focus more on thriving than surviving.
About Habitat for Humanity of Greater Greensboro
Habitat Greensboro was formed in 1987 by four Christians in response to their Habitat experience in Peru. Twenty-five years later, Habitat Greensboro has expanded to almost 5,000 volunteers and 30 staff who build, renovate and provide critical repairs to 30 to 35 homes each year, serving 418 families in Greensboro and 400 internationally.
How the Habitat Model Works
Habitat for Humanity partners with families who have steady employment for one year, participate in a thorough credit analysis, attend educational classes on budgeting and home repair and contribute 300 hours of sweat equity. Homeowners purchase their homes from Habitat at no profit and with interest-free financing. Habitat then serves as the mortgage lender providing life of the loan 0% financing and loan servicing to Habitat homeowners.
About the Greensboro Builders Association
The Greensboro Builders Association is a trade association representing the building and home improvement industry. Founded in 1957, GBA focuses on education, networking, advocacy and community service; representing more than 165 licensed general contractors – builders and remodelers - along with 400 associate members comprised of industry suppliers, trade contractors and service providers.