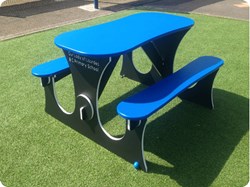 We sell and manufacture British made products using high quality materials.
Bolton, Lancashire (PRWEB) October 17, 2013
Based in Bolton, Lancashire within the Bolton Enterprise Centre, the UK based playground equipment suppliers design, supply and manufacture an innovative range of playground equipment made in the UK, including Natural Playgrounds which are available with a free design and site survey.
The UK based playground designers work mainly with nursery and primary schools, providing a complete service which includes site inspection, playground planning (and design), installation and maintenance if required.
Established in 2008 by Robin Harwood and formerly known as Harwood Imagineering, Playground has become one of the leading suppliers of playground equipment and now employs a dedicated team of four full time staff. During busy periods and especially when projects are being installed across the country, the UK based playground equipment suppliers call on all its teams of highly skilled sub-contractors to ensure deadlines are met.
When John Hughes (Director of Playground Imagineering) was asked what separates you from the competition? He replied, "We sell and manufacture British made products using high quality materials. We provide and excellent personal service and our prices are some of the most competitive for UK made playground equipment."
"Although we deal mainly with schools lately we have managed to supply some 'big names' like Legoland Florida, Bents Garden Centre, Virgin Active and Crawford Pharma. These companies have rigorous procedures in place when choosing a supplier and we are delighted to have become approved," added John
Playground Imagineering, has successfully developed export sales to both the USA and Eastern Europe. "It's great to see that our equipment is proving popular overseas as well as in the UK," said Mr. Hughes.
"We have always been a forward-thinking company and some time ago invested heavily in our website and making sure people find us. We are glad to see that this is beginning to work as these enquiries from abroad prove," added John.
One of Playground's US based customers is Legoland Florida.
Legoland requested an attractive yet durable children's picnic table to be located in the garden patio area of it's resort hotel and having searched for some time (with no success) for a supplier in the US, they were delighted to find the ideal product available from the UK based school playground furniture suppliers.
Legoland Florida is a 150 acre interactive theme park dedicated to families with children between the ages of 2 and 12 and owned by British based company Merlin Entertainments.
Legoland chose the recycled plastic Picnic Table specifically designed for use by young children. The recycled plastic Picnic Table also lends itself to branding as the end panels can be engraved with a company's or school's name.
Having taken delivery of six children's picnic tables, Legoland Florida are looking at placing further orders.
Shannon Serventi (Hospitality Sales Representative at Legoland Florida) expressed her delight with the picnic tables "I have been receiving compliments on the picnic tables from so many people (here at the park and at the hotel). I am definitely spreading the word about your wonderful products!"
Robin Harwood, Managing Director of Playground Imagineering, commented "We hope that this is just the beginning for our export sales and products like our recycled plastic picnic tables will prove popular around the word".
Eastern Europe is also proving to be a lucrative market for school playground furniture made in the UK, with orders from Poland and the Czech Republic being placed with Playground.
A Polish company recently ordered four re-cycled plastic benches for use in a school playground of a new build project.
The Poland based building company intend to place more orders once they secure further refurbishment contracts with the Polish government.
The recycled plastic school benches offer a lower cost, more durable and environmentally friendly alternative to timber benches and these factors were crucial in the company's purchasing decision.
The benches are available in a range of colours which helped the Polish firm further as they were particularly interested in ways of introducing colour to the playground.
School playground equipment was also on the shopping list of a Czech Republic based company.
The Czech Republic firm was searching for items of playground equipment that would help children's creative and musical development.
Playground Imagineering's entire range of playground instruments were all of interest but budget restricted the purchase to four musical panels and a 'Swirl'.
The 'Swirl' has a wonderful sound and a graceful design which creates a real centre piece for any school playground.
Made of twenty six resonated aluminium chimes in the key of C major, ranging in pitch from soprano to alto, it incorporates individual resonators for each chime, resulting in a long, full, rich tone.
The feedback has been very positive with promises of further orders to come.
John Hughes went on to say that "School playground equipment that is unique and of a high quality will always be popular in schools the world over. Playground Imagineering's range of recycled plastic picnic tables, benches and it's outdoor musical instruments are great examples of school playground equipment that children will enjoy wherever they are from".