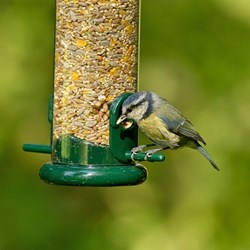 It is of the utmost importance that Britain's birds are only offered the best quality, nourishing bird food.
(PRWEB UK) 18 October 2013
A cold winter 2013 is now imminent, with bitter frosts and 'unsettled' weather predicted by the Met Office for November. In response to these weather warnings, the RSPB has stressed the importance of ensuring Britain keeps feeding its birds throughout the winter season. The society has warned people that the abundance of berries on bushes this October will not provide enough adequate natural food in order to nourish Britain's birds.
As not all these berries will be ripe enough to eat, and with a greater influx of migrant birds expected from Scandinavia and Eastern Europe at the end of the month, ensuring that homeowners provide high quality natural bird food mixes in their gardens for Britain's birds has now become a top priority for ornithology lovers.
In response to the RSPB's announcement, Christine Bennett of Garden Bird Supplies says "Of course, the RSPB are right to emphasise that people need to put out more bird food in their gardens. Birds need quality natural food to sustain them throughout the biting cold months, and with more migrant birds coming to Britain, there will be even more need for people to stock up on bird food supplies."
Christine is also keen to stress that only bird mixes adhering to the standards outlined by the Birdcare Standards Association, should be offered to birds, to ensure they have safe, balanced diets.
"We at Garden Bird Supplies are keen to outline that, as winter approaches, it is of the utmost importance that Britain's birds are only offered the best quality, nourishing bird food"
"There are countless bird food mixes on the market these days, but the quality and nutritional value of some bird food tends to vary wildly. In order to guarantee the best nutritional content for garden birds, a good quality mix, such as our Ultiva® Seed Mixes, is a high quality, good value choice. Our comprehensive test results, in line with standards established by the BSA, support this."
"Our Ultiva® Seed Mix range only contains the finest ingredients. They are packed with protein and oil with only the best calorific and nutritional value, and come in different varieties: Ultiva® High Protein Insect Mix contains peanut granules and mealworms, for instance, while seeds, grains and oats are combined together in Ultiva® Everyday Mix."
The team at Garden Bird Supplies are passionate about incentivising customers to buy only the very best nourishment for Britain's birds, keeping them healthy and well-fed throughout this winter.
Visit the Garden Bird Supplies website to discover an extensive range of bird food, nest boxes, feeders and bird care accessories, all tested for safety and effectiveness. Visit http://www.gardenbird.co.uk today.