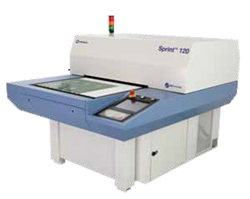 "The choice of Orbotech's Sprint 120 inkjet system, which is the most advanced model on the market, was clear." - Mr. Ricardo Pinamonti, President of Eltos S.p.A
Brussels, Belgium (PRWEB) October 17, 2013
Orbotech S.A., the European subsidiary of Orbotech Ltd., a leading global provider of yield-enhancing and production solutions for printed circuit boards (PCBs) and IC substrates, today announced that Eltos S.p.A, has purchased a latest generation Sprint™ 120 inkjet printer for use in its printed circuit board production operation in Arezzo, Italy.
Mr. Ricardo Pinamonti, President of Eltos, commented: "Our company mission is to manufacture and supply printed circuit boards with superior quality; therefore, the choice of Orbotech's Sprint 120 inkjet system, which is the most advanced model on the market, was clear. It gives us the highest quality solution for high mix production with the flexibility to also meet the demands of the wide range of specialty products and materials that we offer to our customers."
Mr. Hadar Himmelman, President of Orbotech West, said "Having more than 30 years of experience and success in exporting their PCB products internationally, Eltos is very knowledgeable about what it takes to achieve top results in high mix production environment. We appreciate very much that Eltos chose to advance their process with the newest capabilities of Orbotech's inkjet technology."
About Eltos S.p.A
Founded in 1980 with headquarters in Arezzo, Italy, Eltos S.p.A manufactures and supplies printed circuit boards for original equipment manufacturer customers and their electronic manufacturing service providers. Its principal products include multi-layer rigid printed circuit boards, which are the platforms used to interconnect microprocessors, integrated circuits, and other components for the operation of electronic products and systems. With more than 90 employees, it is an important European production site. Elco provides design and engineering assistance services, as well as manufactures printed circuit boards primarily for industrial and medical, communications and networking, computing and peripherals, defense and aerospace, automotive markets and research institutes for nuclear physics. ELTOS S.p.A. offers its products and services mainly in Europe as well as in North America and Asia. For more information, visit http://www.eltos.it.
About Orbotech Ltd.
Orbotech Ltd. (NASDAQ/GSM: ORBK) has been at the cutting edge of the electronics industry supply chain, as an innovator of enabling technologies used in the manufacture of the world's most sophisticated consumer and industrial products, for over 30 years. The Company is a leading provider of yield-enhancing and production solutions, primarily for manufacturers of printed circuit boards, flat panel displays and other electronic components; and today, virtually every electronic device is produced using Orbotech technology. The Company also applies its core expertise and resources in other advanced technology areas, including character recognition for check and forms processing and solar photovoltaic manufacturing. Headquartered in Israel and operating from multiple locations internationally, Orbotech's highly talented and inter-disciplinary professionals design, manufacture, sell and service the Company's end-to-end portfolio of solutions for the benefit of customers the world over. For more information please see the Company's filings with the U.S. Securities and Exchange Commission at http://www.sec.gov and visit the Company's corporate website at http://www.orbotech.com. The corporate website is not incorporated herein by reference and is included as an inactive textual reference only.