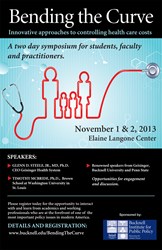 Health care costs in the United States are higher than in any other industrialized nation and have grown at a much faster rate.
Lewisburg, PA (PRWEB) October 18, 2013
Bucknell University's Institute for Public Policy and Geisinger Health System are co-sponsoring the symposium, "Bending the Curve: Innovative Approaches to Controlling Health Care Costs," on Nov. 1 and Nov. 2 at Bucknell University.
All of the presentations are free and open to the public. Attendees should register by Friday, Oct. 25.
Topics to be discussed include using medical records to improve health care and decrease costs, whether wellness programs work, creating healthier communities, data mining the genetic code of viruses and new insurer/provider partnerships.
The symposium begins at noon in the Elaine Langone Center with welcoming remarks by Bucknell economics professor Amy Wolaver, co-director of the Bucknell Institute for Public Policy (BIPP).
"Health care costs in the United States are higher than in any other industrialized nation and have grown at a much faster rate," said Wolaver. "As the historical rate of growth is not sustainable, change is necessary. But what approaches can we take to slow the growth without compromising our population's health?
"This two-day symposium, presented for students, faculty and practitioners, will ask this question and more, including how can we use medical records to provide a better quality of care while at the same time lowering the cost of care? What can communities do to improve the health of their members? How do we evaluate whether wellness programs work? Can payors increase the quality of care for patients by creating medical homes?"
Dr. Glenn Steele, CEO of Geisinger Health System (GHS), will give the keynote opening lunchtime address, "The Geisinger Health System Model," immediately following Wolaver's welcome. Steele will describe GHS's pioneering work in providing high quality, lower-cost health care.
For a full schedule of events or to register for the symposium, visit bucknell.edu/BendingTheCurve.
About Bucknell University
Founded in 1846 and located along the banks of the Susquehanna River in historic Lewisburg, Pa., Bucknell University is the largest and one of the most highly ranked liberal arts universities in the country. Students can choose from more than 110 majors and minors in the arts, engineering, humanities, management, and social and natural sciences, as well as extensive global study, service-learning and research opportunities. Bucknell's 3,500 undergraduate and 100 graduate students from across the world enjoy a low 10-to-1 student-faculty ratio and 150 students clubs and organizations plus 27 Division 1 athletic teams.
About Geisinger Health System
Geisinger Health System is an integrated health services organization widely recognized for its innovative use of the electronic health record, and the development of innovative care models such as ProvenHealth Navigator® and ProvenCare®. As the nation's largest rural health services organization, Geisinger serves more than 2.6 million residents throughout 44 counties in central and northeastern Pennsylvania. The physician-led system comprises more than 20,000 employees, including a 1,000-member multi-specialty group practice, six hospital campuses, two research centers and the 400,000-member Geisinger Health Plan, all of which leverage an estimated $5.5 billion positive impact on the Pennsylvania economy. The health system and the health plan have repeatedly garnered national accolades for integration, quality and service. In addition to fulfilling its patient care mission, Geisinger has a long-standing commitment to medical education, research and community service.