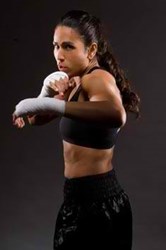 "Keep your dreams alive. Understand to achieve anything requires faith and belief in yourself, vision, hard work, determination, and dedication. Remember all things are possible for those who believe." ~ Gail Devers
Los Angeles, CA (PRWEB) October 17, 2013
The Islamic Center of Irving welcomes GQ Show special guest, women's professional boxer Holly "lil Bear" Lawson, to speak at Open hear, Open door event. Holly will also host a "Special Women's Big Breakfast Club" cardio boxing class.
The Islamic Center is making a progressive move by bringing in a non-Muslim speaker to encourage fitness,sports for women and girls and Holly is completely ecstatic to be part of the movement. Open hearts, Open door event. The Islamic Center of Irving welcomes the community of Irving to attend the GQ Show that will be taped on 10.18.13.
Event: GQ Show special guest: Women's Professional Boxer Holly 'lil Bear' Lawson. Holly's mantra Stay true to yourself!
Date: Friday 10.18.13
Time: 7pm
Open For entire community of Irving age 13 and up.
Male and female
Location: Islamic Center of Irving 2555 Esters Rd, Irving, Tx 75062
Special Women's Big Breakfast Club Cardio Boxing Class
6:30am-8am
About Holly Lawson
Welterweight Holly "Lil Bear" Lawson was born in British Columbia, Canada. Her early years were spent on a reservation with children from the Coast Salish Tribe. Given the middle name Miesha from her mother, her famous fighting name was established, since Miesha means "Little Bear." After graduating high school, she decided to travel and lived in Mexico, England and Saint Lucia.
In 2005, after attending a boxing class for personal exercise, Holly fell in love with the sport. She had her first amateur fight for the California State Golden Gloves in 2010 and won by unanimous decision. Since that first win, Holly "Lil Bear" Lawson has established a large local fan base and has some notable fans such as World Champion Bernard Hopkins, and as well as gym mates Manny Pacqiauo, Amir Khan, Peter Quillin, Jorge Linares, and Ray "Boom Boom" Mancini. One of Holly's inspirations is boxing champ Lucia Rijker, who also fought out of the same world famous Wildcard Boxing Club that Holly has trained at since 2007.
About Islamic Center
The Islamic Center of Irving was established and registered as a non-profit 501C organization in 1991 in the state of Texas, USA. The center had a humble beginning, and has moved from various locations to the current facility on Grauwyler road.The number of attendees of AlhamduLillah has grown exponentially. The center started with only three (3) brothers, and currently about 2,000 worshippers attend the weekly Jummah prayer, AlhamduLillah.
Contact:
BG Productions