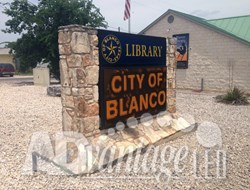 Cities need to keep residents and visitors well informed...and a Community LED Sign is the perfect way to spread information.
Blanco, TX (PRWEB) October 21, 2013
ADvantage LED Signs spokesperson Richard James announced the completion of another successful project. The City of Blanco purchased a new LED Sign measuring 3' 6 3/8" x 6' 9 3/4" featuring a 25mm Amber Grayscale 40x80 Matrix Double Face Display in Blanco, Texas to increase traffic and exposure for their city. The LED sign displays city events and hours of operation for city buildings as well as any other crucial information for the community of Blanco.
Richard James of ADvantage LED Signs explained, "For this project, the services we rendered were identification sign manufacturing, LED Sign manufacturing, complete sign installation, content creation services, comprehensive software training and technical support."
Though it is within close proximity to Austin, San Antonio and Houston, the City of Blanco is well known for its friendly, relaxed atmosphere. Home to Blanco State Park, the city is loved by locals and tourists alike for its camping, fishing, swimming and countless other aspects. Needing an effective method of conveying important information to residents and visitors, the City of Blanco turned to ADvantage LED for its signage needs. As a local company, ADvantage has provided signs and billboards for a number of businesses and communities throughout the surrounding areas.
When asked if they were excited about their new ADvantage LED sign, Bobbie Mowery, City Secretary, said, "Yes, we are." The City of Blanco had a new identification sign, as well as a new LED installed into an existing stone structure. ADvantage LED removed the existing signage and performed the new installation. Bobbie and the rest of Blanco are very pleased with the end result. She added, "It fits in there perfectly; almost looks like it was made for it. Well, I guess it was!"
Bobbie added that the LED sign is very legible, saying that it is great for the community. She predicts it is going to be a great tool in getting important information out to those within the community. Bobbie also mentioned that she would recommend ADvantage to other companies and cities looking for LED displays.
Richard James concluded, "Cities need to keep residents and visitors well informed regarding any number of facts, and a Community LED Sign is the perfect way to spread such information. Communities use our displays for public service announcements, conveying various volunteer opportunities, encouraging participation in public events, notifying the public of amber alerts and countless other purposes."
About ADvantage LED Signs:
Established in 2009, ADvantage LED Signs is a US manufacturer of LED signs and LED Billboards, selling direct to businesses and organizations nationwide. ADvantage LED Signs operates as a total turn-key solution provider, stating that no job is too big or too small.