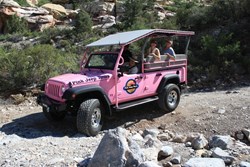 Las Vegas, NV (PRWEB) October 18, 2013
Out of this world seclusion allows one to take a moment from life just to appreciate the stunning raw nature of the Red Rock Canyon National Conservation Area. That is what awaits guests who embark upon Pink Jeep® Tours' brand new Red Rock Canyon with Rocky Gap Adventure tour. For the first time, travel and tourism leader Pink Jeep® Tours will offer an off-road adventure in their iconic open-air Jeep® Wrangler vehicle.
Guests will climb aboard an open-air Jeep® Wrangler stationed at Bonnie Springs Ranch. Then guests will travel to Red Rock Canyon along the popular 13-mile scenic drive. There will be breathtaking views of Wilson Cliffs and ancient Native American pictographs, all part of the 65-million-year-old Keystone Thrust Fault. Guests will experience several stops and photo opportunities at the informative Visitor Center, Calico Hills and more while taking in the ever-changing rugged landscapes.
Next, guests will head up Rocky Gap Road, an area quite unique in the park that is only accessible to off-road vehicles. Evidence of ancient Native American history is also found along Rocky Gap Road and this road was one of the original routes from Las Vegas over the Spring Mountains to the Pahrump Valley. It is the only off-road trail in Red Rock Canyon and is well known to local off-road enthusiasts.
An upgrade option is available to guests to experience a special horseback ride and Jeep® tour package. After the Rocky Gap Adventure tour, guests will saddle up for an exclusive trail ride at Bonnie Springs Ranch, which is the home of Old Nevada Western town. Guests will make their way through the Red Rock Mountains with outstanding views of the Mohave Desert.
This new tour is just one of many new additions to the Pink Jeep® Tours experience. Red Rock Canyon is a local and state treasure located only minutes from the Strip with beautiful desert surroundings, and scenery so dramatic it is often selected as the backdrop for movies and commercials. Red Rock Canyon has been the iconic tour location for Pink Jeep® Tours for over twelve years and it is a great attraction.
The Red Rock Canyon Rocky Gap Adventure tour is approximately five hours long and departs every morning and afternoon. The Red Rock Canyon Horseback Ride Combo tour is approximately eight hours long and departs mid-morning and includes lunch. A shuttle service is provided for guests to and from their hotels for all tours.
For more information about these tours or Pink Jeep® Tours - Las Vegas, please call 888-900-4480 or visit http://www.pinkjeeptours.com.
ABOUT PINK JEEP® TOURS
Pink Jeep® Tours, the premier tour company in the Southwest, was founded in 1960 and has its corporate headquarters in Sedona, Arizona. It expanded to Las Vegas, Nevada in 2001, the Grand Canyon in 2012, and with Pink Adventure Tours in Scottsdale, Arizona in 2013. It serves visitors from around the world and is the only tour company with guide trainers certified by the National Association for Interpretation on its staff. Pink Jeep® Tours also has 10 destinations showcasing the natural side of Las Vegas and guests will travel in their first-of-its-kind, luxurious yet rugged, custom-built sightseeing vehicle, the Tour Trekker. For more information, go to http://www.pinkjeep.com, or Facebook/Pinkjeeptourslasvegas or Twitter@pinkjeeptours.