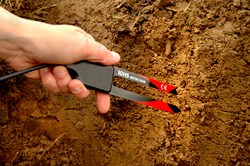 Bourne, MA (PRWEB) October 18, 2013
Onset (http://www.onsetcomp.com), a world leader in data loggers and weather stations, today announced that the company's research-grade Soil Moisture Smart Sensors are now CE Compliant. This enables the sensors to be sold to the European market, as they now meet the 2013 update to the requirements as defined in EN 61326-1: 2013.
The 10HS and EC-5 Soil Moisture Smart Sensors, which offer plug-and-play performance with Onset's HOBO U30 Weather Stations, leverage a high-frequency (70MHz) design that provides +/- 3% accuracy in most soil conditions, including high-salinity and sandy soils. The 10HS model measures soil moisture over a large volume of soil to provide a more accurate picture of average soil moisture in a given area. The EC-5 smart sensor measures water content in a wider range of soils, and is ideal for soil moisture measurements in containers, or at multiple depths.
Since the soil moisture sensors are compatible with a range of Onset HOBO U30 Weather Station models, users have a choice as to how they access their soil measurement data. This includes direct USB data offload in the field using a HOBO data shuttle or laptop computer, or remotely accessing the data over the Internet via Cellular, Wi-Fi, or Ethernet communications. The sensors are also compatible with Onset's HOBO Micro Station, a cost-effective, four-channel data logger for microclimate monitoring.
To learn more, please visit Onset on the web at http://www.onsetcomp.com.
About Onset
Onset is a leading supplier of data loggers. The company's HOBO data logger and weather station products are used around the world in a broad range of applications, including building energy performance monitoring, water resources management, and ecological and agricultural research. Based on Cape Cod, Massachusetts, Onset has sold more than 2 million data loggers since the company's founding in 1981. Visit Onset on the web at http://www.onsetcomp.com.