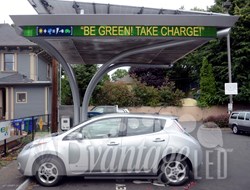 Retail LED signs draw far more attention than their non-animated counterparts and make a more memorable impression.
Portland, OR (PRWEB) October 22, 2013
ADvantage LED has announced the unveiling of another successful project. EV4 Oregon LLC in Portland recently purchased a new Retail LED Sign from ADvantage LED measuring 1' -1 1/16" x 15' -4 7/16". Their sign features an 8mm iPixel Full Color 32x576 iMatrix Single Face Display and was installed with the purpose of increasing traffic and exposure for their business. The company plans to use their new sign for displaying EV4 advertisements and specials, hours of operation and other vendor's advertisements for the community of Portland.
Richard James of ADvantage LED Signs noted, "Signs of this nature draw far more attention than their non-animated counterparts and make a more memorable impression on those passing by. For this project, the services we rendered were LED sign manufacturing, complete sign installation, content creation services, comprehensive software training and technical support."
EV4 Oregon LLC is a company dedicated to the design, manufacture and operation of power stations for electric vehicles. They provide consumers more efficient access to power for their environmentally friendly vehicles through their wind and solar energy powered EV charging stations and smart grid systems. The company saw a need for more effectively communicating their messages to the public. Having previously purchased a sign from ADvantage and seen first-hand their unparalleled quality and customer service, EV4 did not hesitate to turn to them once again for their signage needs.
Now owner and manager of two ADvantage LED Displays, Hans van der Meer said this about his LED signs, "I like how they look great without infringing on the canopy design. My sign works excellently for my structure." He also mentioned, "The resolution of the sign is great. It's exactly what I expected."
When asked about the SM Infinity™ software he upgraded to, van der Meer stated it was an excellent idea. "I can adjust the LED's and their schedules from anywhere I need to," he exclaimed. He also mentioned if there were any questions or concerns regarding the sign, he knew he could simply contact ADvantage and the concern would be resolved.
Richard James spoke of the signs and products offered by ADvantage, saying, "Our retail LED signs are a great investment for our clients and are a proven method of effective advertising. Our SM Infinity™ cloudware combines programming and content creation in one user friendly interface. It is the most effective solution for programming and message creation currently on the market."
About ADvantage LED Signs:
Established in 2009, ADvantage LED Signs is a US manufacturer of LED signs and LED Billboards, selling direct to businesses and organizations nationwide. ADvantage LED Signs operates as a total turn-key solution provider, stating that no job is too big or too small.