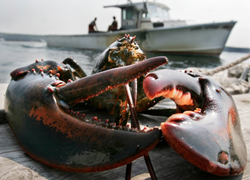 (PRWEB) October 17, 2013
Tis the season for giving and GetMaineLobster.com is certainly in the holiday spirit. Now through Monday, October 21, the live Maine lobster delivery service is offering a 51-percent discount, plus free shipping, on any lobster package. Seafood lovers throughout the continental United States have the choice of live Maine lobsters, Maine lobster tails and hand-picked Maine lobster meat fresh from the cold waters of the North Atlantic. Upon checkout, simply enter promotion code "51OCTOBER" to receive the discount.
In addition to the fresh, succulent lobster meat, live Maine lobsters are fun and easy to prepare. Emulate the celebrated Maine seafood experience with 10 one- to 1.25-pound live Maine lobsters for only $77.91 after the discount.
Lobster tails are great for grilling or pan-frying and are an excellent addition to any meal. A wide range of lobster tail packages are currently available including 12 four- to five-ounce Maine lobster tails for $63.21 after discount, 16 four- to five-ounce Maine lobster tails for $77.91 or 10 seven- to eight-ounce Maine lobster tails for $97.51. Baste with butter, add to a pasta dish or simply enjoy the lobster meat plain!
For those looking to try out a seafood recipe or make a delicious lobster roll, such as Get Maine Lobster's own Curry Lobster Roll, two pounds of fresh, hand-picked Maine lobster meat is available for only $58.31 after entering the "51OCTOBER" discount code upon checkout. Whichever lobster package Get Maine Lobster's customers order, they are sure to be provided with an unforgettable experience with the authentic flavors and everything else that Maine seafood has to offer.
"I can't believe how GetMaineLobster.com goes out of its way to give us the best seafood buying experience on the East Coast," says John, a satisfied GetMaineLobster.com customer from Maryland. "The great service would be pointless without great tasting lobsters and its lobsters were great!"
To learn more about GetMaineLobster.com, browse its wide range of seafood offerings, and to access lobster recipes or view current specials, visit GetMaineLobster.com or call (866) 562-4817. For even more lobster news and recipes go to JustAddLobster.com.
About GetMaineLobster.com
GetMaineLobster.com, a division of Black Point Seafood and Black Point Gourmet, hand-selects the finest Maine lobster, seafood and beef products for convenient distribution throughout the United States. Their passion is to make fresh, quality seafood readily available to customers across the country, which is why they buy from only the most trusted, well-established suppliers to ensure that they receive the finest products available.
GetMaineLobster.com was selected out of the more than four million small American businesses served by Chase bank to represent its new Platinum Business Checking product for its 2013 national advertising campaign.