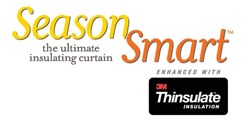 New York, NY (PRWEB) October 23, 2013
With temperatures dropping, it is important to have the right products around the home to stay warm.
Nothing says winter-ready like soft, snugly blankets. Insulated blankets like ComfortTech 3M Thinsulate provide optimal warmth, but are stylish enough to spruce up the couch, or add an extra layer to bedding. Keeping blankets around the house will make the freezing months a little warmer.
Insulating curtains are another great winter accessory. Lining existing curtains with insulating fabric is an excellent way to keep cold drafts out, and keep heat inside. Liners like the Season Smart curtain liner also contain 3M Thinsulate for superior warmth without the added bulk. Curtain liners can be easily added to any existing décor and winterize the home without changing any of the design.
For information or tips about preparing the home for winter, visit Homestyle Brands on Facebook.
Ellery Homestyles is a leading supplier of branded and private label home-fashion products to major retailers – offering curtains, bedding, throws and specialty products. Our proprietary brands deliver innovation in fashion, function and design and include Eclipse™ - the voice of authority for energy-saving, noise-reducing, blackout curtains; Curtainfresh™ - innovative curtains with odor-neutralizing technology developed in partnership with Church & Dwight, maker of Arm & Hammer®; SoundAsleep™ room-darkening curtains, The Official Curtain of the National Sleep Foundation; ComfortTech™ - the only blankets constructed with premium 3M™ Thinsulate™ Insulation, providing luxurious style, lightweight comfort and superior warmth; VUE™ – the home fashion brand that presents Ellery's "point of view" on fashion trends and design, Waverly® - the oldest continuously advertised home fashions brand in America recognized by consumers for its distinctive traditional looks; Historic Charleston Collection™ - the distinctive home fashions brand that is steeped in historic Charleston's decorative arts culture; Absolute Zero™ Home Theater – decorative home fashion draperies developed to block 100% of light for the optimal media experience; SeasonSmart™ – the ultimate 3M™ Thinsulate™ insulating curtain for year round energy savings. Ellery is a global company headquartered in New York City with a 375M square foot distribution center in North Carolina and offices in China, India and Pakistan.