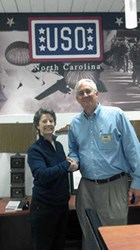 Raleigh, N.C. (PRWEB) October 17, 2013
President and CEO, Sandra Burnett announced today the rollout of Military Discounts powered by The hCard® in several U.S. cities.
"New concepts in hand-held technologies are transforming the face of business," Burnett said.
Burnett introduced the free mobile app for military personnel and veterans (Downloadable now on Android and iPhone).
USO NC President John Falkenbury helped launch the program at the USO Center located at the Raleigh Durham airport, stating, "USO of NC is excited about this new App that will help our military. Today's military, whether traveling or at home, are looking for ways to bring value and savings to their daily lives. This mobile App does that! Not only does it identify businesses that offer them discounts, adding the USO locations around the country informs our military where they can relax and find help."
This "Show and Save" program is at the forefront of the new App technology centered on local community-minded businesses. Changing the landscape of how small enterprises increase revenue, this App drives new customers to hotels, restaurants, spas, golf courses, automotive services, theater tickets, etc. Participating National Sponsors include Wyndham Hotels, Navy Federal Credit Union and Cox Communication in Virginia.
U.S. Cities such as Fayetteville, NC, Hampton Roads, VA, and San Antonio, TX were selected because of the presence of the military facilities and their impact on the local economy. For example, Hampton Roads is one of the world's leading and deepest natural harbors and home to the world's largest naval installation at Norfolk, VA. With unemployment rates among the military at an all-time high, this program not only offers significant discounts to help families survive, but it helps them thrive during these challenging economic times by offering them employment opportunities.
Following several Military Discounts launches, The hCard will expand nationwide with firefighter, law enforcement and hCard civilian savings Apps.
Military Discount Mobile App will provide great savings for active and retired military that simply show proof of their active or retirement status. By downloading the free App, participating community-minded businesses and services are easily located and patronized.
Non-Military Participants may download "hCard Discounts App" now or purchase The hCard online at http://www.ThehCard.com to take advantage of this innovative program. The hCard® offers a wide range of local and national discounts.
About The hCard
The hCard® is a nationwide membership program offering discounts at community-minded businesses. The hCard Mobile App is free for our military and veterans. Learn more about how to save hundreds of dollars per year at http://www.thehcard.com or go mobile by downloading "hCard Discounts" app. One country, one card!
How It Works: The "Show and Save" hCard works like any other discount card. Use the downloadable app or show the plastic hCard to receive a discount at participating local businesses, including restaurants, car dealerships, salons and more. Check the coupon on your phone app or search for partner businesses online using your zip code or city.
Where to Get It: Supporters can purchase the app for $19.99 from the iPhone and Android app stores (search for "hCard Discounts") or order The hCard at http://www.thehcard.com. When a $20 hCard is purchased directly from an organization, 100 percent of the funds are kept by the school or nonprofit organization, if purchased online, 50 percent of the funds are immediately given to the organization selected by the purchaser.