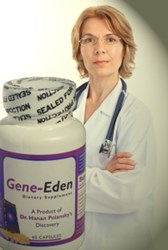 Time and again, we find that the Epstein Barr Virus (EBV) takes advantage of a person's weak immune system. Individuals need a remedy that can help their immune systems target the latent virus. – Mike Evans, polyDNA
Rochester, NY (PRWEB) October 20, 2013
The Epstein Barr Virus (EBV), known for causing infectious mononucleosis, may also cause systemic autoimmune disorders (SADs) such as Lupus, Crohn's Disease, Eczema, Grave's Disease, and Rheumatoid arthritis (RA). Many other disorders have also been linked to EBV according to a new study. Authors wrote that long-term infection with the virus may be a central cause of these disorders. "Epstein-Barr virus (EBV) infection…is suspected to have a central role in the pathogenesis of SADs (1)."
In addition, EBV is associated with several rare cancers. "EBV has for decades been associated with induction of various cancers, including lymphoid malignancies (e.g., Burkitt's lymphoma) and epithelial cell malignancies (e.g., nasopharyngeal carcinoma) (1)."
Rheumatoid arthritis (RA), in particular, may be associated with EBV infection. For example, RA patients have been shown to have very high levels of EBV DNA. As study researchers wrote, "By the use of several methods including in situ hybridization and PCR, presence of EBV DNA/RNA has been demonstrated in PBMCs (peripheral blood mononuclear cells), saliva, synovial fluid, and synovial membranes of RA patients. Furthermore, 10-fold higher frequencies of EBV-infected B-cells have been observed in RA patients compared to healthy controls (1)."
In addition, RA patients have also been shown to have very high numbers of the Epstein Barr Virus in their systems, specifically in their immune T-cells. Study authors noted that "research has revealed increased viral load, high titers of EBV-directed antibodies, and decreased cell-mediated control of EBV in RA patients compared to healthy controls, and suggested a role for infiltrated EBV-specific T-cells in synovial (the fluid in joints) inflammation of RA patients (1)."
In other words, the interaction between an individual's immune system and the Epstein Barr Virus may be causing many harmful conditions. As stated in the study "the constant interplay between the host's immune response and EBV immune-modulating proteins may result in individual disease patterns… (1)."
"Time and again, we find that the Epstein Barr Virus (EBV) takes advantage of a person's weak immune system. Individuals need a remedy that can help their immune systems target the latent virus." – Mike Evans, polyDNA
Gene-Eden-VIR is a natural EBV remedy proven in a clinical study to reduce symptoms such as long-term laryngitis associated with a chronic EBV infection (2). A recent post marketing clinical study published in the peer reviewed, medical journal Pharmacology & Pharmacy, in a special edition on Advances in Antiviral Drugs on August 12, 2013 showed that Gene-Eden-VIR is safe and effective (2).
Each ingredient of Gene-Eden-VIR was chosen through a scientific approach. Scientists scanned thousands of scientific and medical papers published in various medical and scientific journals around the world to identify the safest, most effective natural ingredients that target the latent form of herpes (2).
To learn more about Gene-Eden-VIR and herpes, visit http://www.gene-eden-kill-virus.com/Herpes-Remedy.php. All orders of Gene-Eden-VIR are completely confidential, and no information is shared or sold to any third party. Privacy is assured.
Reference:
(1) http://www.hindawi.com/journals/cdi/2013/535738/
(2) http://www.scirp.org/journal/PaperInformation.aspx?PaperID=36101
polyDNA is a biotechnology company that develops dietary supplements using the unique scientific method developed by Dr. Hanan Polansky, which is based on Computer Intuition.
In addition to his unique scientific method, Dr. Polansky published the highly acclaimed scientific discovery, called Microcompetition with Foreign DNA. The discovery explains how foreign DNA fragments, and specifically, DNA of latent viruses, cause most major diseases.
polyDNA developed Gene-Eden-VIR, an antiviral natural remedy that helps the immune system kill latent viruses.