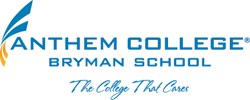 Phoenix, AZ (PRWEB) October 17, 2013
Anthem Education Group (AEG), a nationwide family of schools and colleges that provide career-focused training and educational programs, recently opened its new Anthem College – Bryman School at Black Canyon campus, located at 16404 N. Black Canyon Highway. Marking the third AEG location in the Phoenix-area, the campus offers diploma programs in the healthcare, information technology and technical trade fields.
"We are thrilled to open our third campus in the Phoenix community and are looking forward to helping our new students meet their educational goals," said Sara Mayer, executive director of Anthem College – Bryman School at Black Canyon. "As 'The College That Cares,' we offer programs for industries with growing employment opportunities and are committed to ensuring that students who come prepared to learn will leave prepared to succeed."
Anthem College – Bryman School at Black Canyon offers diploma programs in computer and network technician, heating ventilation and air conditioning (HVAC), medical assistant, medical front office and billing and patient care technician. These quality education programs are based on practical-application courses that meet employer-driven requirements and can be completed in one year or less to help students move quickly into the job market.
With well-equipped classrooms, computer labs, clinical settings and medical labs on campus, students have access to a learning environment that combines coursework with skill development. The campus also features a career center designed to help graduates seek viable career options and a resource center that provides students and faculty with access to hard copy or online reference materials, including books, videos and periodicals to supplement textbooks and lectures.
For more information about programs and services offered at Anthem College – Bryman School at Black Canyon, please call (888) 848-4219. Visit Anthem.edu, facebook.com/AnthemEducationGroup and follow us on Twitter at twitter.com/AnthemEducation.