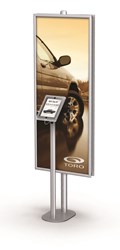 Customer feedback has indicated that these displays seem to have a direct effect on show-generated sales. - APG President Matt Baron
Grayslake, IL (PRWEB) October 21, 2013
Recent feedback from trade show exhibitors – culled from online surveys and direct communications – has indicated that iPad trade show displays are becoming an integral part of successful trade show booth areas, regardless of size or industry. This data, compiled by online trade show signage provider APG Exhibits, suggests that the simple inclusion of iPad- and other touch-based tablet displays has resulted in increased foot traffic to their booth area, which in turn has led to increased lead generation and more potential business.
"We have been surprised by the overall feedback from exhibitors purchasing these displays," remarked APG Exhibits President Matt Baron. "A very high percentage of them have circled back to us post-show to make special note of how useful and effective their iPad trade show displays were in drawing interest from show attendees."
iPad displays for trade shows have a number of benefits inherent in their simple-yet-effective design. By making use of modern technology, exhibitors are able to give the impression of being "with the times" while also utilizing the iPad's ability to educate and inform about products or services, even in the absence of booth staff. Additionally, nearly all of the available options are cost-effective and represent a big visual upgrade for a small monetary investment. A wide variety of configurations are available, either with display hardware only or also with optional graphics to complement whatever message is being communicated on the devices themselves.
Baron explained further, "The wide appeal of these iPad trade show displays has evidenced itself in repeat orders as the scope and size of our clients' exhibit areas has increased over time. Not-so-coincidentally, customer feedback has indicated that these displays seem to have had a direct effect on that growth via higher show-generated sales."
For more information about APG iPad displays or their recent study on the benefits of iPad trade show displays, please contact APG Exhibits at 866-752-2192, or use the email link provided.
...
APG Exhibits is a premier online provider of trade show displays, outdoor exhibits, custom booths, promotional giveaways, custom banners and more. APG Exhibits' mission is to provide high-quality trade show display products and outstanding customer service at the guaranteed lowest prices. Contact Customer Support at 866-752-2192 or visit apgexhibits.com for more information.