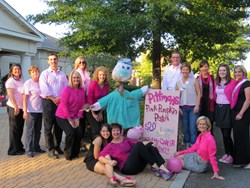 Athens, Georgia (PRWEB) October 18, 2013
Pittman Plastic Surgery, P.C. joins thousands across the nation in honoring October as National Breast Cancer Awareness Month with their annual pink pumpkin sale and first-ever Pink Out event. From now until supplies run out, pink pumpkins decorated with white and pink designs are on sale for $20 each. Earlier this month, the Pink Out was held at Pittman Plastic Surgery in Athens, Georgia where guests participated in a shoe parade for an entry fee of $10. Both events' proceeds go to In Their Shoes, a one-day 13.1 mile walk to benefit Athens cancer patients.
During the Pink Out event, Pittman Plastic Surgery's staff and their families, patients, and friends dressed in pink and participated in a pink-themed parade in their most fabulous and outrageous shoes. Surrounded by pink pumpkins and basking in bright pink lights, grand prize winners were selected by Dr. Ed Pittman, Dr. Piotr Skowronski, and guest judge, Ms. Senior Athens 2013, Fay Davis. Ms. Davis has been recognized by the Athens community for her service at Athens Regional Medical Center, Relay for Life, Athens Church, Athens Community Council on Aging, and the American Cancer Society. She has participated in two In Their Shoes half marathons and plans to walk again this month.
As plastic and reconstructive surgeons who perform breast reconstruction surgery for patients post-cancer, Drs. Ed Pittman and Piotr Skowronski are passionate and understand firsthand the effects of breast cancer on a patient and their loved ones. "Most of us know someone who has been affected by breast cancer both directly or indirectly, especially in a close-knit community like Athens," board certified plastic and reconstructive surgeon Dr. Ed Pittman says, "we strive to educate our patients about available breast reconstruction options, local support, and resources to help them on their healing journey."
Dr. Pittman and Dr. Skowronski specialize in breast procedures such as breast augmentation or breast reconstruction using tissue flaps or implants. During consultations, Dr. Pittman and Dr. Skowronski meet with each of their patients to walk them through their procedure options, discuss goals and expectations, and nurture a strong relationship with the patient.
ABOUT IN THEIR SHOES
In Their Shoes Athens Cancer Walk is a 13.1 mile, one-day walk to benefit programs and services offered free of charge for cancer patients at Athens Regional Medical Center's Loran Smith Center for Cancer Support. All proceeds from the walk support the local Athens community and bring recognition for survivors and previvors. This year's walk will begin at the Loran Smith Center on October 26th, 2013 at 8 am.
ABOUT PITTMAN PLASTIC SURGERY, P.C.
Dr. Ed Pittman and Dr. Piotr Skowronski offer cosmetic and reconstructive procedures of the face, body, and breasts including comprehensive facial rejuvenation, body contouring, and mommy makeover surgery options to Athens area patients. Founded in 2001, Pittman Plastic Surgery, P.C. houses Athens' first AAAHC accredited surgical center devoted exclusively to cosmetic surgery and reconstructive breast procedures. Trained in both cosmetic and reconstructive surgery, Dr. Piotr Skowronski and Dr. Ed Pittman are now accepting new patients.
###