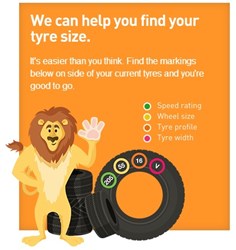 Yorkshire, UK (PRWEB UK) 19 October 2013
Jungle Tyres has an up-front method of pricing. Each tyre has two options, a delivered price and a fitted price, making it straightforward with no hidden costs. Unlike other online tyre retailers who sell their tyres at competitive prices, Jungle Tyres can offer their customers the opportunity to have their tyres fitted to their vehicles locally because it's part of the UK Tyre Network. Being part of the network means that Jungle Tyres are connected to garages all over the UK that can fit the new tyres customers have bought online locally. This makes the tyre-buying process as quick and easy as possible for the customer.
The website is simple, easy to use and features a range of tyres from top brands such as Vredestein, Uniroyal, Michelin, Pirelli, Dunlop and Firestone. Winter tyres, summer tyres and all-season tyres can all be found over on the Jungle Tyres website. They also stock tyres for vans, SUVs and 4x4s, catering for a wider market.
The launch of the Jungle Tyres website has come at a good time with many people looking to purchase tyres for their vehicles as the cold weather hits. When the weather is below 7°C, it's important to fit winter tyres to vehicles to improve safety and performance.
It's been a busy first few months for Jungle Tyres with lots of people putting their safety at the fore-front of thinking and investing in new car tyres. People buy new tyres if they have a puncture, if their tyres are worn down, if they show signs of ageing, if they're damaged or if they're abnormally worn.
It's highly recommended to buy car tyres new. Nearly 98% of all part-worn tyres are sold illegally and 16% of part-worn tyres contain dangerous or unsafe repairs. Going for the part-worn option isn't always the most cost-effective; Jungle Tyres sell new, legal and cheap tyres.
The tyre prices on the Jungle Tyres website are monitored on a daily basis to ensure that customers are getting the best deal. If a customer does spot a tyre cheaper elsewhere, then Jungle Tyres will do their best to work out a better deal. Head to http://www.jungletyres.co.uk to view the latest deals.