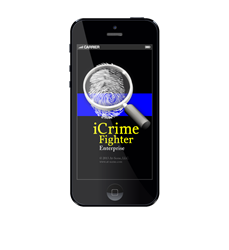 Mobile law enforcement technology is here to stay. Now, with iCrime Fighter, data gathered using hand-held, mobile devices in the field can be securely uploaded and stored for immediate or future use.
Minneapolis, MN (PRWEB) October 21, 2013
At-Scene, a provider of mobile law enforcement applications and solutions, today announced the iCrime FighterTM Enterprise mobile evidence gathering solution for fast, secure field data collection using smart phones and other mobile devices. The iCrime Fighter solution, which was officially launched today at the International Association of Chiefs of Police conference in Philadelphia, enables officers in the field to quickly capture important field notes, evidence, images, videos and audio statements at the scene using the iCrime Fighter app and instantly and securely upload all files to http://www.icrimefighter.com. Unlike using standard mobile device apps, iCrime Fighter Enterprise is FIPS 140-2 compliant, using advanced encryption to ensure safe uploading of data to the AWS GovCloud for secure evidence storage and immediate reporting or dissemination to other officers, departments or law enforcement agencies.
Smart phones and other mobile devices are increasingly being used by law enforcement officers in the field because they offer unprecedented convenience and enable departments to replace costly and cumbersome digital cameras, video cameras, audio recorders and field notebooks with one simple, hand-held solution. But the standard mobile applications that are used to take photos, audio files and notes on these devices are not secure. Keeping unencrypted data on a device that can be dropped, lost or broken in a scuffle, or sending unencrypted data, runs the risk of evidence being lost or falling into the wrong hands. iCrime Fighter takes advantage of the most useful smartphone and mobile device features for gathering evidence and that all uploaded information is secured and stored using advanced encryption technology.
"Mobile law enforcement technology is here to stay, but until now there has not been a way for officers and departments to ensure that data gathered using hand-held, mobile devices in the field can be securely uploaded and stored for immediate or future use," said Mario Galasso, former police sergeant and CEO of At-Scene. "In addition to data security issues, once an officer starts using a smartphone for evidence-gathering, all data stored on the device makes the entire device subject to subpoena, leaving the officer without his or her indispensible field tool. With iCrime Fighter Enterprise, we upload and store all data on the highly secure AWS GovCloud, enabling easy access to the data as needed with no risk of SD cards, photos, audio files, statements or notes being misfiled or tied-up in back-logged evidence rooms," Galasso explained.
"Before my agency began using the iCrime Fighter mobile evidence platform, it was difficult to use smart devices for evidence collection due to concerns about data security and difficulty pulling data from individual apps," said Amos Halava, police officer and IT professional for the Watauga Police Department, Watauga, Tennessee. "With iCrime Fighter running on our smart devices, we spend less time juggling multiple pieces of equipment and can better focus on gathering the evidence and statements we need. Being able to immediately file the information in a secure way means we save even more time back at the office when it comes to filing reports and logging evidence," Halava added.
The iCrime Fighter app has been thoroughly field-tested and has been downloaded and reviewed by more than 10,000 users in law enforcement agencies worldwide. Because it works with widely available mobile technologies like the iPhone, iPad and Android devices, the technology is easily accessible to even the smallest departments. The new iCrime Fighter Enterprise uses AWS GovCloud, a secure cloud service developed for and used by the federal government and law enforcement agencies, to provide national-scale, secure data storage that scales from a one-man department to large agencies. Advanced encryption and FIPS 140-2 compliant storage ensures that all data is uploaded and hosted securely.
The iCrime Fighter app and iCrime Fighter Enterprise for iOS and Android devices are available now from At-Scene. For more information, please visit http://www.at-scene.com.
About At-Scene
At-Scene is a developer of mobile law enforcement applications for Apple iPhone/iPad and Android phones and tablets. The company's products include iCrime Fighter Enterprise, a professional, mobile evidence-gathering solution and iBolo for identification and reporting of contacts, suspects and arrestees in the field. The company is owned and operated by law enforcement officers.