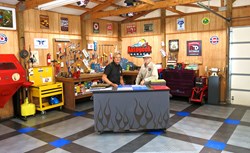 "RaceDeck is definitely the world's leading modular garage flooring company. Great folks and a really cool product. I love my RaceDeck garage floor!" - Dennis Gage, Host 'My Classic Car'
Salt Lake City, UT (PRWEB) October 18, 2013
RaceDeck®, the world's number one garage flooring manufacturer and supplier, is now the official garage floor for the hit television show 'My Classic Car' shown on both the Velocity channel and MAVTV. Viewed by car enthusiasts across the nation, the weekly television program has entered its 17th season of highlighting classic automobiles. Now filming, the 2014 season will feature 26 episodes taking place in the recognizable garage of Host Dennis Gage now outfitted with a custom RaceDeck garage floor designed by Dennis himself.
"RaceDeck is definitely the world's leading modular garage flooring company. Great folks and a really cool product. I love my RaceDeck garage floor!" - Dennis Gage, Host 'My Classic Car'
My Classic Car currently airs on Velocity and MAVTV channels (Discovery Network) , broadcasted to over 86 million viewers. Episodes cover a variety of topics, from car collections, to classic car events, to outfitting garages. Currently on set filming, RaceDeck CEO Jorgen Moller, is pleased with the new sponsorship.
"We are proud to be have been chosen as the official garage flooring for the top rated and longest running 'car guy' series on television. Dennis now has a very cool garage floor to match his very cool show." - Jorgen Moller, RaceDeck CEO
Moller's segments will feature information on the manufacturing, available flooring options and installation of RaceDeck along with two new product releases for 2014.
Manufactured in Salt Lake City, Utah, RaceDeck garage flooring systems are engineered to withstand the toughest of environments, from commercial shops and home garages, to showroom floors and trade shows. The patented PowerLock™ technology and Step-N-Snap design makes for an easy and fast installation, no tools necessary, a true DIY garage flooring system. The preferred alternative to toxic epoxy, RaceDeck's variety of floor styles and colors transforms garages to the 'Coolest Garage On The Block™' in hours not days. The easy to clean, chemical resistant surface has helped make RaceDeck the undisputed number one garage flooring world-wide.
The team at RaceDeck® offers unmatched experience. As the inventors of the modular garage flooring industry and holders of over 18 patents, the RaceDeck crew continues to engineer, manufacture, and distribute the top products in the industry. Products are proudly made in the USA from the Salt Lake City, Utah headquarters. SnapLock Industries, RaceDeck's parent company, has been awarded ISO 9001:2008 Certification for its Quality Management System, demonstrating its uncompromising commitment to manufacturing and providing the highest quality products and services to its customers. RaceDeck manufactures in their 150,000+ square foot ISO 9001:2008 Quality Certified operations 24x7 and is supported by an authorized global network.