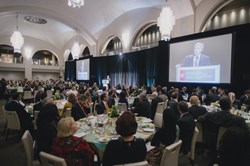 Toronto (PRWEB) October 17, 2013
On Thursday October 10th, 2013 the Canada India Business Council (C-IBC) hosted its 10th Annual Diwali Gala.
"Relationships are the foundation of the Council's work and for senior government and corporate leaders engaged in the Canada-India corridor, our Annual Diwali Gala gives them a regular forum to meet and re-connect," said Peter Sutherland, President & CEO of the Council.
This year's Gala included:

Keynote Speaker: Mr. Tom Jenkins, Chairman, OpenText a global leader in enterprise information management. Mr. Jenkins discussed how an open dialogue on trade relations will lead to increased opportunities between India and Canada.
The C-IBC Recognition of Achievement Award: was presented to Mr. Allison McCain in honor of the company's exemplary success in the Indian marketplace and their ongoing contribution to a positive bilateral relationship between Canada and India.
Event Details:
The Canada India Business Council 10th Annual Diwali Gala
Date: October 10, 2013
Time: 6 pm
Location: Arcadian Court
For more information on the event, please contact info(at)canada-indiabusiness(dot)ca.
Interviews & Photos:
Peter Sutherland, President & CEO of C-IBC is available to comment on Canada-India trade relations; the current business climate and the significance of this 10- year anniversary for the Council and for Canada.
To arrange an interview please contact info(at)canada-indiabusiness(dot)ca
Event photographs will be available on request.
info(at)canada-indiabusiness(dot)ca
416-214-5947