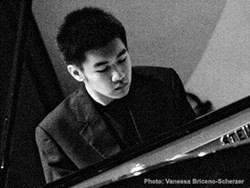 Conrad Tao is the only classical musician on Forbes' 2011 "30 Under 30" list of people changing the world.
New York, NY (PRWEB) October 18, 2013
Pianist Conrad Tao, the only classical musician on Forbes' 2011 "30 Under 30" list of people changing the world, will be presented in concert by the Tanenbaum Center for Interreligious Understanding on Thursday, October 24, 2013 at 8:00 p.m. at Weill Recital Hall at Carnegie Hall.
Mr. Tao will perform a selection of the piano pieces by composer Gordon Getty which Mr. Tao recently recorded on the PentaTone Classics label, as well as works by Meredith Monk and Maurice Ravel. The prodigiously gifted young pianist/composer Conrad Tao was named a Gilmore Young Artist and awarded an Avery Fisher Career Grant, both before the age of 20. In a concert review, All Things Strings declared, "he plays music as if the composer were at his side, with color, joy, and spontaneous poetry."
Tickets are $50 (general) and $125 (premium), available at The Carnegie Hall box office(57th Street at 7th Avenue); through CarnegieCharge: 212/247-7800; or online at http://www.carnegiehall.org.
There are also $250 VIP Reception tickets and $1,500 Vice Chair packages (includes 4 VIP tickets and program listing) that can be purchased by contacting Guirlaine Belizaire at gbelizaire(at)tanenbaum(dot)org or 212.967.7707 x112.
###
COMPLETE PROGRAM (SUBJECT TO CHANGE)
Gordon Getty (1933) – First Adventure
Gordon Getty (1933) – Ancestor Suite
Gordon Getty (1933) – Andantino
Gordon Getty (1933) – Scherzo Pensieroso
Meredith Monk (1942) – Railroad (Travel Song)
Maurice Ravel (1875-1937) – Valses nobles et sentimentales
Maurice Ravel (1875-1937) – Gaspard de la nuit
ABOUT CONRAD TAO
The only classical musician on Forbes' 2011 "30 Under 30" list of people changing the world, 18-year-old Chinese-American pianist Conrad Tao was found playing children's songs on the piano at 18 months of age. Born in Urbana, Illinois, he gave his first piano recital at age 4; four years later, he made his concerto debut performing Mozart's Piano Concerto in A Major, K. 414. In June of 2011, the White House Commission on Presidential Scholars and the Department of Education named Conrad a Presidential Scholar in the Arts, while the National Foundation for Advancement in the Arts awarded him a YoungArts gold medal in music. Later that year, Conrad was named a Gilmore Young Artist, an honor awarded every two years highlighting the most promising American pianists of the new generation. In May of 2012, he was awarded the prestigious Avery Fisher Career Grant.
In January of 2012, Conrad's performance of Saint-Saëns' Piano Concerto No. 2 with the Detroit Symphony Orchestra was hailed by the Detroit News as "a blazing debut...a performance no less seductive in its lyrical beauty than hair-raising in its technical brilliance." Following a recital at Carnegie's Weill Hall in February of 2012, the New York Times wrote of the "lovely colors and poetic nuances" of his Liszt, and the eloquence and "fiery panache" of his Prokofiev. Later that year, in June, a writer for All Things Strings attended Conrad's performance at the Montréal Chamber Music Festival and noted that "Tao is ready for his own TV show: he plays music as if the composer were at his side, with color, joy, and spontaneous poetry. He composes, studies, researches, writes...like that whiz kid on the West Coast, Conrad Tao should be licensed to operate by the time he's 21."
Sporting a truly international career, Conrad has appeared as soloist in the United States with the Philadelphia Orchestra, the Russian National Orchestra, and the Baltimore, Dallas, Detroit, and San Francisco Symphonies, among others. He has made multiple tours of Europe, giving solo recitals in Paris, London, Munich, Berlin, and Verbier, and performed with orchestras in Brazil, China, Hong Kong, Mexico, Moscow, and Singapore. Highlights of his 2012-2013 season include two more tours of Europe, including a concerto debut at the Concertgebouw in Amsterdam and a third re-engagement at the Louvre in Paris, appearances at the Mostly Mozart and Aspen Music Festivals, debuts with the National Arts Centre Orchestra in Canada, a return to Asia with the Hong Kong Philharmonic, and performances of all five Beethoven piano concertos in the United States.
As an accomplished composer, Conrad has won eight consecutive ASCAP Morton Gould Young Composer Awards since 2004; he also received BMI's Carlos Surinach prize in 2005. For the 2012-2013 season, Conrad has been commissioned by the Hong Kong Philharmonic to write a concert overture ringing in their new season – frequent colleague Jaap von Zweden's inaugural season there as music director – as well as celebrating the region's annual China Day. He was also asked by the Dallas Symphony to compose a work observing the 50th anniversary of President John F. Kennedy's assassination, which will be performed in November of 2013.
As an award-winning violinist, Conrad has performed with orchestras in Pennsylvania and Florida; in 2009, he gave nine performances of Mendelssohn's Violin Concerto in E minor (followed by Mendelssohn's Piano Concerto No. 1 in G minor in the second half) with the Symphony of the Americas in Boca Raton. Conrad's violin prowess was featured on Jackie Evancho's Dream With Me PBS special, on which Conrad also traded spots with David Foster behind the piano.
His first album, released by EMI Classics as an iTunes exclusive in February of 2012 as part of the "Juilliard Sessions" series, comprised works by Debussy, Stravinsky, and Conrad himself. His second album, entitled "Voyages" and featuring solo piano works by Rachmaninoff, Ravel and Conrad, will be released in June 2013. Also in June 2013, Conrad will present and curate the three-day Unplay Festival in New York City, a celebration and exploration of the musician's "role" in the shifting spaces of our post-microblog/tweet/story era.
Conrad currently attends the Columbia University/Juilliard School joint degree program and studies piano with Professors Yoheved Kaplinsky and Choong Mo Kang at Juilliard. He studies composition with Professor Christopher Theofanidis of Yale University, and studied violin with Ms. Catherine Cho for five years at Juilliard's Pre-College Division.
ABOUT TANENBAUM
The Tanenbaum Center for Interreligious Understanding is a secular, non-sectarian organization that promotes mutual respect with practical programs that bridge religious difference and combat prejudice in areas of armed conflict, schools, workplaces, and health care settings.
This is the third annual performance of A Piece for Peace, a personally important concert for Conrad. When asked about Tanenbaum's work, Conrad said, "The idea of respecting differences resonates for me – we all have the capacity to reason with each other. Tanenbaum's work echoes what I've tried to do, that is, show people that classical music, just like religion, can mean a lot of different things."
Tanenbaum envisions a world that is safe for religious differences. At the heart of Tanenbaum's work are the Golden Rule ("One should treat others as one would like others to treat oneself.") and the Platinum Rule ("Treat others in the way they like to be treated."). Tanenbaum's core philosophy is that we should and indeed, we must, treat others – believers and non-believers alike – with dignity and respect.
Last year, Tanenbaum's programs to prevent religious bullying reached more than 180,000 students. Tanenbaum also trained 900 doctors, nurses and medical professionals in ending health care disparities, reaching countless patients; trained 960 human resource professionals at global companies around the world to combat religious harassment at work. With their Peacemaker in Action Network, Tanenbaum conducted peace interventions in Honduras and South Africa and trained 55 teachers in Nigeria, Afghanistan and Indonesia—who are now bringing respect for difference to their students.