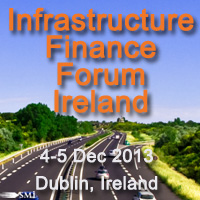 London (PRWEB UK) 19 October 2013
According to the article published by Mark Hennessy, September 13th, The Irish Times, http://www.irishtimes.com/business/sectors/commercial-property/ireland-back-in-vogue-with-the-world-s-infrastructure-investors-1.1525468, interest in Ireland is growing. That represents the international financial markets' growing optimism about the country's prospects for good returns; but, just as significantly, a lack of opportunity elsewhere for them right now.
According to this article, the Government is offering temptations: projects will get final approval in 15 months, not the average of 21 months that happened before; while the costs of putting together a bid will be cut in half.
€2.25 billion worth of projects are up for grabs, varying in size from €60 million for some of the smaller buildings, up to €250 million for road projects such as the N17/N18 Gort to Tuam road in Galway and the M11 Gorey to Enniscorthy motorway and N25 New Ross bypass in Wexford as stated in the article
Against this backdrop SMi's Infrastructure Finance Forum Ireland will address the following topics, among others:
Initiatives being developed to reduce time and costs:

Partial bid cost reimbursement (project cancellation & unsuccessful bidders)
Target reduction in procurement process
Fewer stage submissions
Reduction in volume of bid documents
Steven Burgess, Head of Project Management, National Development Finance Agency
The Current State of PPP in Ireland:

Infrastructure stimulus plan - recent investments
Restoring financial stability
Future outlook for PPP in Ireland
Pipelined projects
New PPP projects – Education/Transport/Healthcare/ Justice
Brian Murphy, CEO, National Development Finance Agency
Investing in Infrastructure
Benefits of investing in Irish infrastructure
Existing infrastructure vs. new projects
Can we afford it?
How will we pay for it?
Michael Flynn, Director Corporate Finance, Deloitte & Touche
For more information on this conference please visit the website.
We have introduced a special price of £799 for a limited time so book today to take advantage of this discount. Go online or contact Andrew Gibbons on +44 (0) 20 7827 6156 or email agibbons(at)smi-online(dot)co.uk
Plus Attend a Pre-conference Workshop
Project Finance Masterclass , Tuesday 3rd December 2013 08.30 - 17.30, Workshop Leader: Andrew Petry, Partner, Simmons & Simmons LLP
For more information on the workshop, click here.