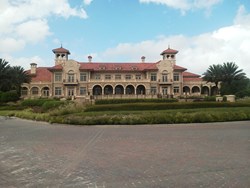 It always has to be beautiful.
Snyder, TX (PRWEB) October 24, 2013
Dakota Smith traveled from Hawaii to West Texas to run track. Soon he will be running golf courses.
Smith, a student in the Turfgrass and Landscape Management Program at Western Texas College, recently returned from an internship at TPC Sawgrass Golf Course (Dyes Valley Course) in Jacksonville, FL. He was part of the grounds crew that prepared the course for the Web.com Championship, a qualifying event for the PGA Tour.
"Our job was to prepare the course for the tournament, including making sure it was ready for the television broadcast. There's great attention to detail. Because it rained at some point every day, we had to repair washed out bunkers, pump water out of bunkers that flooded, and drag the tee boxes, greens and fairways to get the dew off them. It helps the course dry quickly and makes it look better for TV."
How did a kid from Kealakekua, Hawaii find his way to West Texas? "After I graduated from Konawaena High School on the big island of Hawaii, I was looking for a junior college where I could run track. Many of my friends went to schools on the west coast.
I wanted to move further than that. I got a scholarship from Western Texas to run the 800 meters so I came here. I like Texas because it has a strong state pride, much like my home state of Hawaii."
"While I'm not a golfer, I like working in the golf course industry because of the emphasis on perfection. I like for people to step out on the course, look at the product we put out and say, "That's the best." I strive to be the best in athletics, school and work. I want to be number one in whatever I do."
Dakota got to see the quest for perfection up close at TPC Sawgrass. "The course is on the same road as the PGA headquarters so it gets looked at everyday. It always has to be beautiful."
In speaking of his two year college experience, "I learned a lot from my first instructors in the Turfgrass program, J.J. Caswell and Randy Weaver. After I got into the field I realized why they taught me what they did. It prepared me for what I would do managing the turf on a golf course. Now I'm learning about irrigation systems from Jim Bob Thomas and will soon get my irrigation license. I'll graduate in May of 2014 and start gaining golf course superintendent experience. I'm always learning. They manage turf differently depending on the area of the country your course is in. I like learning the best methods depending on the region. Florida has a different set of plant diseases than Texas. My end goal is to someday oversee a region of golf courses."
"My end goal..." Author Stephen Covey wrote that a habit of highly effective people is to "begin with the end in mind." When your destination is determined, the journey is always more focused. Also, the challenges encountered along the way are met with more determination when one's end goal is in mind. Dakota knows what a pristine golf course should look like and it's helped him focus on his life plans.
On his experience at Western Texas College, Dakota notes, "The connections you will make here you won't be able to make anywhere else. Last years graduating class is all working in the turfgrass management field. It's a top notch program because the practical experience here sets us apart. It's more than classroom learning. Every class has a lab attached to it that allows us to learn on the golf course itself. When our students go on internships we come in ready to work because we've been prepared with hands-on training. One of our graduates is even working on the ground crew for the Texas Rangers."
To be an effective training ground for students who are seeking to meld their passions with a rewarding career should be the goal of every higher learning institution. Western Texas College, an excellent Texas community college offering real world associate degree programs, is certainly striving to achieve this higher goal.