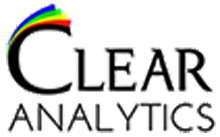 Jersey City, New Jersey (PRWEB) October 21, 2013
Clear Analytics is a new level of self-service business intelligence and spreadsheet management solution.
The unique technology delivers a powerful combination of enterprise strength and business intelligence combined with the freedom, flexibility and ease of use of Excel.
Businesses rejoice as Excel is no longer considered the risky option for day to day ad hoc analysis or management reporting. Clear Analytics allows users to continue working business-as-usual with Excel but with the added advantage of accurate data, trace-ability and security. A business intelligence solution which allows businesses the freedom to create, share and maintain their own insights is an industry first. Saving potentially hundreds of thousands on specialist report designers. IT departments can for the first time deliver clean and accurate data to their users directly into Excel whilst monitoring data usage to ensure they focus on delivering the highest quality data where it matters most.
Clear Analytics is an incredibly versatile platform guaranteed to give any existing Excel user a significant productivity boost. Not only does it make it easier to create and share insights, a transparent layer of entitlements and security helps to ensure your data is protected, centralized and version controlled.
Download a free personal edition from their website at http://www.clearanalyticsbi.com to experience the true benefits and capabilities of Clear Analytics.
Clear Analytics is located at 30 Montgomery St., Suite 1245, Jersey City, N.J. For more information about the solution, call them at (917) 720-3041.
About the Company
The team at Clear Analytics has over 20 years of experience in delivering cutting edge business intelligence solutions to enterprises that demand the freedom to self-serve and never wait on IT. The team's mission is to empower businesses with simple and elegant solutions that allow them to answer their own questions and collaborate insights without the need for IT.